Barlean's Olive Leaf Complex Peppermint Flavor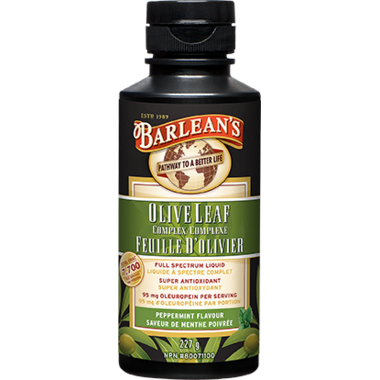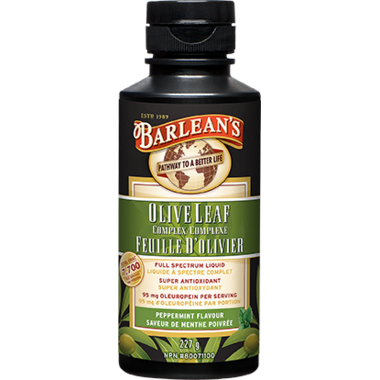 Barlean's Olive Leaf Complex Peppermint Flavor
Used as a traditional medicinal plant throughout the world for centuries, olive leaf has been clinically studied for it it's antibiotic, anti-fungal, anti-bacterial and anti-viral properties in addition to its potential to support a healthy immune system. This is why olive leaf complex is so popular during cold and flu season. The polyphenols in olive leaf have also been studied for their capacity to support healthy heart function as well as overall well-being because of their extremely powerful antioxidant properties.
Benefits and Features:
Health Tonic, Immune Support, Seasonal Wellness, Healthy Joints and Healthy Blood pressure in the normal range
Full spectrum complex of beneficial olive polyphenols in every serving
High potency formula with 95 mg oleuropein per serving
Super ORAC antioxidant
Recommend Dosage:
Adults: 1 Tbsp Daily, Kids: 1.5 Tsp Daily. Take straight or mix with water or juice

Ingredients:
Glycerine, Water, Olea Europaea Leaf Extract, and Natural Flavors
Do not give to kids 2 yrs or younger without medical advice. Consult your healthcare provider prior to use if you are pregnant, nursing or have a history of low blood pressure. Keep out of reach of children.