Be Better Maximum Strength Garlic
Odour Controlled 500mg
60 Enteric Softgels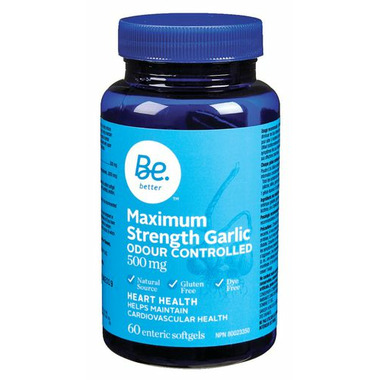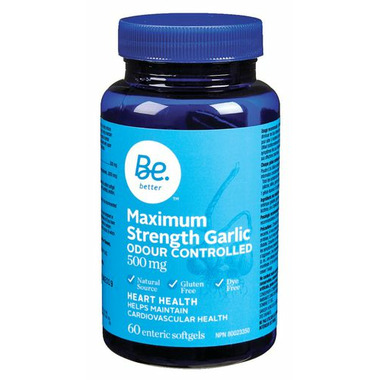 Be Better Maximum Strength Garlic
Odour Controlled 500mg
60 Enteric Softgels
The Be Better Maximum Strength Odour Controlled Garlic is a natural, gluten free, and dye free supplement that helps maintain cardiovascular health.
1 Softgel equals 8 cloves of fresh garlic:
Total Actives (allicin, alliin, gamma-glutamylcysteines) --- 8000 mcg
Garlic Powder (Allium sativum) (bulb) --- 500 mg
Other Ingredients
: Organic flaxseed oil, enteric softgel capsule (gelatin, glycerin, purified water, pectin, sorbitol), lecithin, yellow beeswax.
Dosage
: 1 softgel daily or as recommended by a physician.
Consult a physician prior to use if you are pregnant or if you are taking blood thinners, protease inhibitors or if you have diabetes. Hypersensitivity (e.g., allergy) has been known to occur, in which case discontinue use.