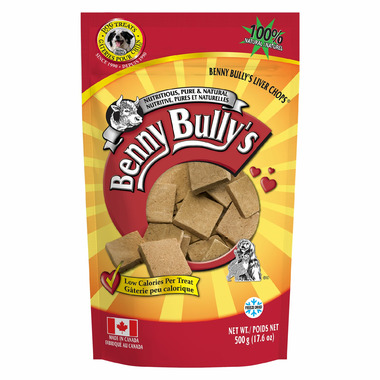 500 g
Benny Bully's Liver Chops
is rated out of
5
by
6
.
---
Description
Pet owners and in particular dog trainers, have discovered Benny Bully's Liver Chops® as a nutritious, pure and natural alternative to traditional pet treats.
Benny Bully's have developed an innovative cutting and drying process, as an alternative to conventional food preservatives, making Benny Bully's one of the few "no chemicals added" treats on the market today. Made from pure natural beef livers, they sliced and specially sized each piece to provide easy feeding, maximum palatability and attract the most hard to please pets.
Benny Bully's pure natural fillets of beef liver, offer your pet a full true flavour. Plus Benny Bully's is hand selected from government inspected meat sections for the health conscious pet owner.

Features:
Single ingredient: pure beef liver
Made in Canada
No Offshore Sources
Low Calories Per Treat
Healthy Beef Liver Protein
Freeze Dried, Using Innovative Process of Cold Forming with Temperature Control
Easy to break pieces
Irresistible Aroma
Renowned by dog trainers as a great training treat
No Additives, No Coloring, No Preservatives
Pure human edible government inspected meat
Re-sealable packaging
Natural calcium and phosphorus present for strong teeth and bones
Contains natural fibre for optimal digestion
Contains natural vitamins for healthy skin and coat
A healthy snack to take for a walk, or add as part of a nutritious meal
Feeding Instructions:
Break and feed pieces as a treat, reward, training, or snack
Nutrition Facts Guaranteed Analysis:
Calories.......412
Fat.............10 g
Protein.........68 g
Carbs...........11 g
Fiber............0 g
Ash..............5 g
Moisture.........6 g
Phosphorous....393 mg
Potassium......284 mg
Magnesium.......18 mg
Omega-6.........17 mg
Niacin..........14 mg
Copper..........12 mg
Omega-3..........6 mg
Vitamin A........6 mg
Pantothenic Acid.6 mg
Iron.............5 mg
Ingredients:
100% Pure Beef Liver
Highlights

Shipping & Returns
Rated

5

out of

5
by
Red
from
Back with another Benny Bully's review!
Apparently I am known amongst the neighbourhood dogs as the lady with the best treats, paws down! One even sees me from blocks away, and drags her owner over to me ASAP for a tasty treat or two. Always and forever the absolute favourite treat of my dog (well, unless you toss a big chunk of chicken in his direction!). I love that the treats I give him are the healthiest and purest possible - people try to offer him one of their lesser-quality treats, and he always turns them down… I have a very smart dog!
Date published: 2022-06-28
Rated

5

out of

5
by
Red
from
Still my dog's favourite treat!
My dog still loves Benny Bully's liver chops so much - they're his absolute favourite! They're also the favourite of all the neighbourhood dogs - as soon as they see me coming, they head straight for my treat pocket. Good thing my Dogue is so good at sharing, LoL. They break up easily into small 'rewards' treats - or keep them whole for a regular, highly pleasing snack. I will always recommend this product!
Date published: 2021-07-09
Rated

5

out of

5
by
Red
from
Benny Bully's Liver Chops will always be the #1 treat in my household!
This liver treat is my Dogue's favourite treat by far! (It's also a favourite with the neighbourhood pups… they beeline directly to my treat pocket every time. Amazing how dogs know which person has the best treats - and all those dogs can't be wrong!). I highly recommend these awesome liver treats to anyone who wishes to feed their dog delicious and healthy things!
Date published: 2022-03-28
Rated

5

out of

5
by
Red
from
Oh how my dog LOVES these!
Benny Bully's Liver Chops are a very healthy, low calorie treat that my dog is always excited for! The minute I pull the bag from the cupboard, his head perks up and I have his undivided attention! It's so hard to find a healthy treat that has limited ingredients. I highly recommend these treats - your dog will thank you!!
Date published: 2020-08-17
Rated

5

out of

5
by
Mama T
from
My dogs favourite by far !!!!
She has has had many different treats over the years, this one in number 1!
Date published: 2021-02-26
Rated

5

out of

5
by
ckturner
from
Can't go wrong
My dog loves these! Consistent quality and I love that they're Canadian.
Date published: 2021-09-21