Benylin All-In-One Cold & Flu Liquid Gels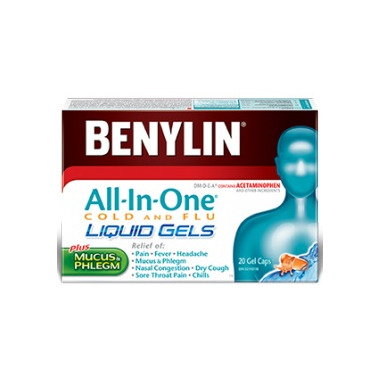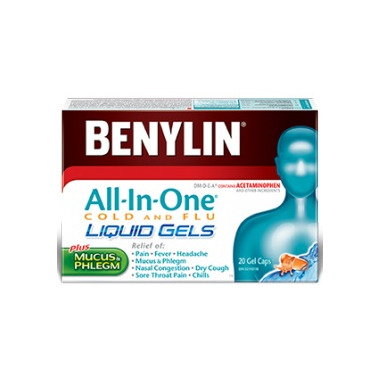 Benylin All-In-One Cold & Flu Liquid Gels
Benylin Extra Strength All-In-One Cold & Flu Liquid Gels are a complete product in the Benylin family of products. It comes in portable and fast-acting liquid gels. This convenient pack provides relief of all of your cold & flu symptoms in 1 simple solution.

Effective relief of:
Pain
Fever
Headache
Mucus & Phlegm
Nasal Congestion
Dry Cough
Sore Throat Pain
Chills
Ingredients:
EACH CAPSULE CONTAINS:
Cough Suppressant:
Dextromethorphan Hydrobromide
Relieves dry cough. 10 mg
Decongestant:
Pseudoephedrine Hydrochloride
Relieves nasal congestion 30 mg
Expectorant:
Guaifenesin
Relieves chest congestion. 100 mg
Analgesic:
Acetaminophen
Relieves sinus pain, headache, fever, and sore throat. 1000 mg
NON-MEDICINAL INGREDIENTS (alphabetical):
D&C Yellow No. 10, FD&C Red No.40, gelatin, polyethylene glycol, povidone, propylene glycol, water.
Directions:
Adults (12 yrs. & over)
2 capsules every 4-6 hours. Maximum 8 capsules per day.
Warning:
Keep out of reach of children. This package contains enough medicine to seriously harm a child. Do not take more than the maximum daily dose. Overdose may cause nervousness, dizziness, sleeplessness or severe or possibly fatal liver damage. Consult a doctor before use with other medications, including natural health products, prescription drugs, nonprescription drugs or if you have chronic alcoholism, serious kidney or liver disease, high blood pressure, heart or thyroid disease, diabetes, chronic lung disease, shortness of breath, asthma, glaucoma, an enlarged prostate, or are elderly, pregnant, or breastfeeding. Do not use with a monoamine oxidase inhibitor (MAOI, e.g. drug for depression) or for 2 weeks after stopping the MAOI. Persistent cough may be a sign of a serious condition. Consult a doctor if fever lasts more than 3 days, sore throat pain lasts more than 2 days, or symptoms last more than 5 days. If symptoms worsen or are accompanied by a high fever (>38°C) or the production of thick, yellow/green phlegm, talk to a doctor. Do not take if allergic to any of the ingredients. Consult a doctor if allergic reactions such as wheezing, rash or itching develop.