Benylin Regular Strength Cough & Cold Syrup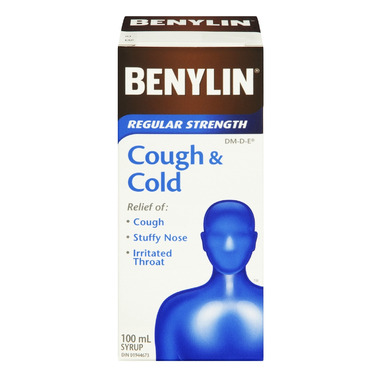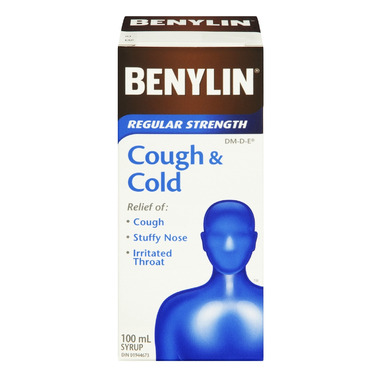 Benylin Regular Strength Cough & Cold Syrup
Try Benylin for relief of yucky cough and cold symptoms. This syrup is sucrose free!

RELIEVES:
Coughs
Stuffy nose
Irritated throat
Directions: Adults (12 years and over) take 2 teaspoons (10 mL) every 6-8 hours. Maximum of 8 teaspoons (40 mL) per day (Not recommended for children under 12 years.)

Medicinal Ingredients: Dextromethorphan Hydrobromide (15 mg/5mL), Pseudoephedrine Hydrochloride (30 mg/5 mL), Guaifenesin (100 mg/5 mL).

Non-Medicinal Ingredients: Alcohol, artificial sweetener enhancer, citric acid, D&C Red No. 33, FD&C Red No. 40, flavour, glycerin, menthol, polyethylene glycol, sodium benzoate, sodium carboxymethycellulose, sodium citrate, sodium cyclamate, sorbitol, water. Caloric content: 8.3 Kcal/5 mL.

CAUTION: Talk to a doctor before using this product if you have high blood pressure, heart or thyroid disease, diabetes, asthma, chronic lung disease/shortness of breath, persistent/chronic cough, glaucoma or difficulty urinating due to enlargement of prostate gland, or are elderly, pregnant, breastfeeding, or taking a drug for depression, including monoamine oxidase (MAO) inhibitor drugs. Check with a doctor if cough worsens, lasts more than 7 days, or tends to recur or if you also have excessive secretions or fever. Do not take more than the recommended dosage.