Better Life Produce Wash Basil Lemon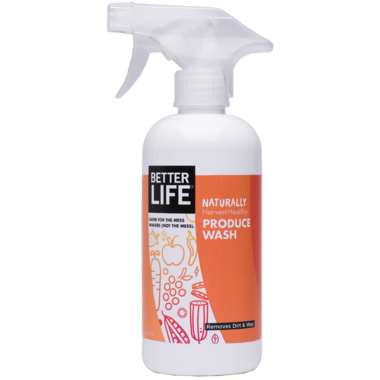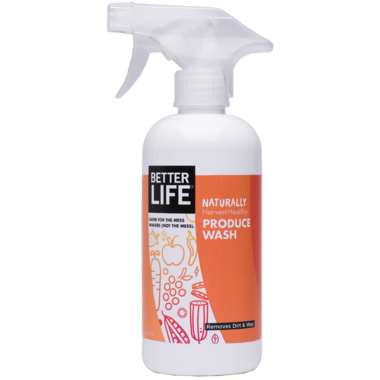 Better Life Produce Wash Basil Lemon
Better Life Produce Wash will let you enjoy the pure taste of your fruits and vegetables after our unique blend of citrus extracts, natural cleaning agents and minerals work to loosen wax, film and other residues. Formulated with organic ingredients.
Features:
Non toxic and biodegradable
Safe around kids, pets, and the planet
Never tested on animals
Kind to waterways and marine life
Made in USA with solar energy
DOES NOT CONTAIN: Sodium Lauryl/laureth sulfates, Petrolum solvents, Parabens, Ethers, Synthetic fragrances, Alcohol, Ethoxylates, Dyes.
Directions:
Spray it on any fruit or vegetable and rub with hands or a produce brush to remove wax, dirt and residues. Don't forget to clean the rinds and skins, even if you don't plan to eat them. Berries and other small fruit may be placed in a colander, then sprayed and agitated. Rinse thoroughly with cold water. To soak, add 2 tbsp. to a bowl of cold water. Swish the produce and rinse thoroughly with cold water.
Ingredients:
Purified Water, Organic acetic acid, Quillaja Saponaria Bark Extract, Citrus Medica limomum, sea salt, cocoglucoside, citric acid, ocimum basilicum
While Better Life is non-toxic, it's better as a cleaner than a beverage. Don't drink, and keep out of reach of children.