Biokleen Soy Kitchen and Bath Cream Cleaner
Volcanic Perlite & Lime Extracts
32oz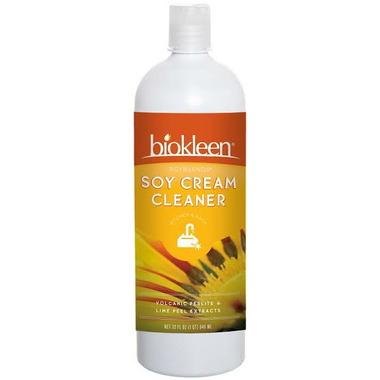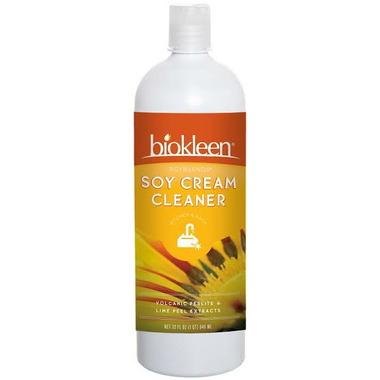 Biokleen Soy Kitchen and Bath Cream Cleaner
Volcanic Perlite & Lime Extracts
32oz
Volcanic Perlite & Lime Extracts


A unique blend of soy, citrus extracts, and microscrubbers to effectively clean, shine and protect bath and kitchen surfaces withouth scratching. Great for countertop stains, ceramic stove tops and shining chrome fixtures. Discover the cleaning power of soy!
Features:
Powerful soy, citrus and micro-scrubbers clean, shine and protect.
Great for ceramic stove tops and chrome.
No acids or caustics.
No artificial fragrance or colors.
Tips for Use:
Apply with sponge, soft brush or directly on stain, rub lightly, letting micro-scrubbers do the work.
Rinse with damp cloth and water.
For bathroom, use on tubs, tile, sinks, countertops, porcelain, chrome, showers, linoleum, or tile floors and grout.
For kitchens use on countertops, sinks, chrome, stoves and ceramic stovetops, ovens, grease vents, linoleum or tile floors and grout.
Ingredients:
Water (filtered), Methyl Soyate, Laureth 7 (plant based surfactant), Caprylyl/Capryl Glucoside (plant based surfactant), C10-16 Alkyl Glucoside, Perlite, Sodium Silicate, Xamthan Gum (plant based stabilizer) Zeolite, Citrus Grandis (Grapefruit) Seed Extract, Glycerin
Keep out of reach of children. CAUTION: In case of eye contact, flush with cool water for 15 minutes. In case of ingestion, do not induce vomiting; drink plenty of water to dilute.