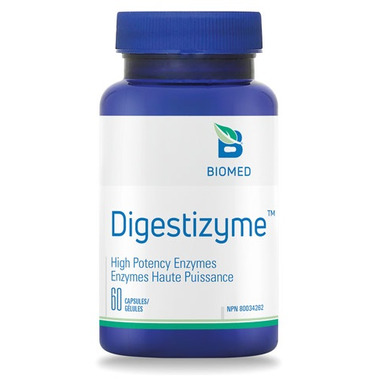 Description
Digestizyme is a high potency formula created to provide a comprehensive variety of enzymes required by the body for proper digestion of fat, protein, and carbohydrates.

Dosage: 1 capsule 3 times per day
Ingredients:

Protease Blend (alkaline, neutral and acid stable) 77500 HUT
Lipase 3010 LU
Amylase 23100 DU
Glucoamylase 30 AGU
Malt Diastase 2000 DP
Lactase 1000 ALU
Alpha Galactosidase 200 GalU
Invertase 1000 INVU
Cellulase 400 CU
HemiSeb® 800 HSU
Pectinase 25 endo PG
Caution: Consult a health care practitioner prior to use if you are pregnant or breastfeeding, taking anti-inflammatory or other enzyme products, if you have diabetes or galactosemia, gastrointestinal lesions/ulcers, are taking anticoagulant agents, or are having surgery. Headaches, heartburn, bloating and hypersensitivity (e.g. allergy) have been known to occur; in which case, discontinue use.

Vegan, Soy Free, Gluten Free, Dairy Free
Highlights

Shipping & Returns