BIOS Medical Compact Blood Pressure Monitor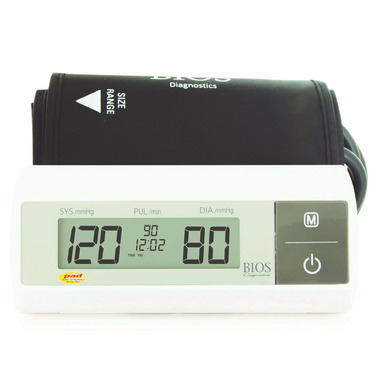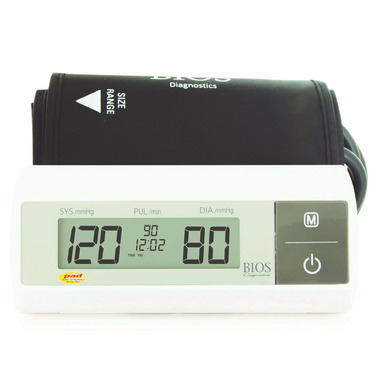 BIOS Medical Compact Blood Pressure Monitor
This compact blood pressure monitor delivers the accuracy and precision you expect from BIOS in half the size. Its compact design is ideal for traveling and its simplicity is favoured by many users.
Features:
"One Touch" fully automatic inflation/deflation
99 memories
Averages all stored readings
PAD (pulse arrhythmia detection)
Date and time
Includes wide range cuff
Travel case included
Includes AC/DC adapter
4 year warranty
How to Use:
Measure at the same time each day to ensure comparable data
Empty your bladder
Avoid eating and smoking 30 minutes before measuring
Rest quietly for 5 minutes
Remain calm and quiet while the measurement is in process
Do not speak while taking the measurement
Take measurements on the same arm (normally left)
Sit with legs uncrossed so as not to restrict blood flow
Sit with back supported and measurement arm resting on table
Sit with feet flat on the floor
Caution:
Lifestyle modifications with a focus on increasing cardiovascular exercise, weight loss and diet are central to lowering your blood pressure. The reductions in risk are real and will add years to your life, so monitor frequently and know your numbers.