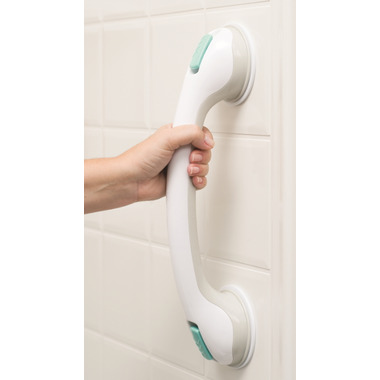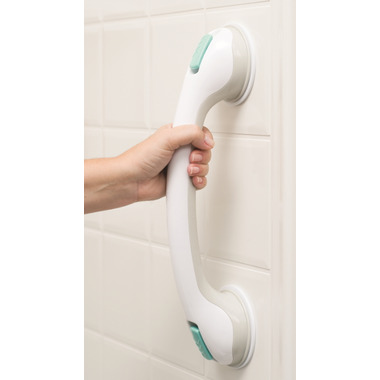 Totally portable! The Suction Grab Bar has flip-up easy release tabs for easy installation and removal. Great for one piece tub surround baths, glass, tile or granite surfaces. Suction Rail must be applied to a solid surface, will not adhere over grout lines. For
balance assist only, not full body weight.
Lily:
more than a year ago
This is an excellent product. I have two of the smallest one, and one of the largest one. They are fairly sturdy, but I wouldn't want to actually use it for my full weight, as it can come off. I use it when shampooing my hair, just for stability as my knees are not the best. I took the larger one travelling this summer to use in hotel rooms and homes I stayed in. That's why I ordered two of the smaller ones. For convenience of travelling. The larger one was hard to fit in my luggage. I also use a smaller one to hold my bathmat which dries easily on it, and hangs out of the way of others in my home.
Jonq:
more than a year ago
This product has made a formerly inaccessible tub/shower useable. Attaches securely to a smooth surface for balance assistance.
Does not claim to hold full body weight, but has withstood several good tugs and has remained secure. Be sure to measure the distance between your tile grout lines before ordering - to be certain that each end of the grab bar sits directly on a tile, and not across a grout line. Several visitors have expressed interest after seeing this product installed. I will take it with me when travelling.
Dorothy R:
more than a year ago
I bought this product because I have issues with getting in and out of the bathtub due to severe osteoarthritis in my knees. It is very easy to install; it comes in three lengths - 12", 16" and 24". I bought the 16" one and used it for the first time. I would highly recommend this product for people who need to have something to hold onto when bathing. I am going to order one for my mom to help her as she is older and I worry about her falling. The only item of note is that it is not meant to hold a person's weight and it clearly states that in the literature. It is only a guide for assisting in one's bathing. Overall, good price and I like the product.
Page
1