BioSteel High Performance Sports Mix Tube Mixed Berry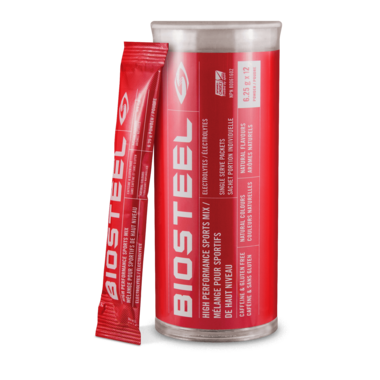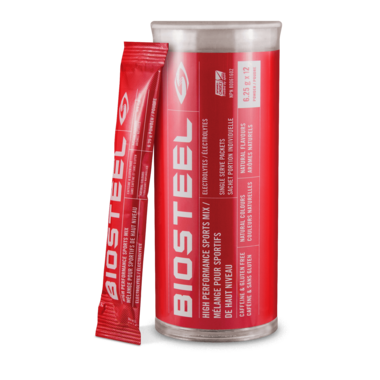 BioSteel High Performance Sports Mix Tube Mixed Berry


BioSteel High Performance Sports Mix is an electrolyte and hydration mix that provides sustained energy while reducing fatigue without the use of sugar or caffeine.
BioSteel's flagship product provides hydration and electrolyte replacement, as well as sustained energy without the use of sugar or caffeine. This premium mix contains amino acids, minerals and vitamins which all help reduce fatigue and increase performance whether you're competing in sport or grinding through the work day.
What's Inside:
Mineral Blend: Minerals and electrolytes that are vital for many of the body's functions. Consistently replenishing these key nutrients will help the body perform at its best no matter what you're doing.
Amino Acid Blend: a blend of individually sourced amino acids (building blocks of protein) that are quickly absorbed into your body which help kick start recovery.
Vitamin B Blend: The B vitamins play an important role in metabolizing fats, carbohydrates and proteins, which are key components of energy.
Recommended Use:
Adults: mix 1-2 packets, 2 times per day with 250-500 ml of water. Athletes: mix 1-2 packets with 500 ml of water per every hour of exercise.
Active Ingredients:
Amino Acid Blend
L-Leucine 1184 mg
L-Valine 536 mg
L-Isoleucine 536 mg
Glycine 458 mg
L-Glutamine 970 mg
Taurine 135 mg
Mineral Blend:
Calcareous Marine Algae (Lithothamnion spp.) 37 mg
Magnesium citrate 13.5 mg
Zinc hydrolyzed vegetable protein chelate 540 mcg
Sodium Citrate 135 mg
Tri-Potassium citrate 89 mg
Non-Active Ingredients:
Natural Mixed Berry Blend, Citric Acid, Stevia (Leaf) Extract, Red Beet Powder (Colour), Celtic Sea Salt, Sunflower Lecithin (As An Emulsifier).
Nutrition Facts:
Calcium 12.5 mg
Magnesium 5.5 mg
Zinc 162 mcg
Medicinal Ingredients
Vitamin B Blend
Biotin 0.2 mcg
Choline (Choline Bitartrate) 107.5 mcg
Vitamin B12 (Cyanocobalamin) 0.2 mcg
Folic Acid 5.8 mcg
Inositol 250 mcg
Niacin (Vitamin B3) 256 mcg
Calcium D-Pantothenate 237 mcg
Vitamin B6 300 mcg
Riboflavin (Vitamin B2) 300 mcg
Thiamine (Vitamin B1) 300 mcg
Amino Acid Blend
L-Leucine 1184 mg
L-Valine 536 mg
L-Isoleucine 536 mg
Glycine 458 mg
L-Glutamine 970 mg
Taurine 135 mg
Mineral Blend
Calcareous Marine Algae (Lithothamnion spp.) 37 mg
Magnesium Citrate 13.5 mg
Zinc Hydrolyzed Vegetable Protein Chelate 540 mg
Sodium Citrate 135 mg
Tri-Potassium Citrate 89 mg