BioSteel Natural Isolate Protein Blend Vanilla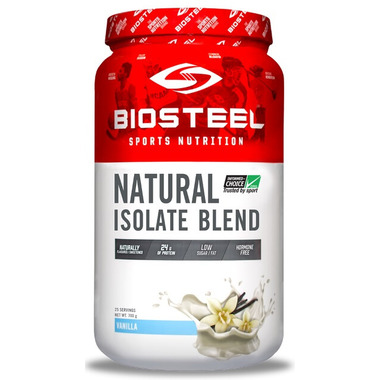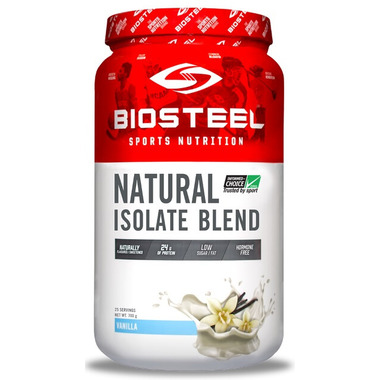 BioSteel Natural Isolate Protein Blend Vanilla
Biosteel'S Natural Isolate Blend Is A Premium Blend Of Three Quality Proteins Providing A Complete, Balanced, And Easily Digestible Protein Source That'S Perfect To Incorporate Into Your Daily Routine To Promote Optimal Nutrition.
BIOSTEEL'S NATURAL ISOLATE BLEND IS A PREMIUM BLEND OF THREE QUALITY PROTEINS PROVIDING A COMPLETE, BALANCED, AND EASILY DIGESTIBLE PROTEIN SOURCE THAT'S PERFECT TO INCORPORATE INTO YOUR DAILY ROUTINE TO PROMOTE OPTIMAL NUTRITION.
Directions:
Adults: mix 1-2 scoops with 250-500 ml of water. Vary the amount of liquid to achieve your own desired taste and consistency.
As part of a healthy shake
After a workout/exercise
For those looking to lean out when part of a balanced diet and exercise routine
Nutrition:
AMOUNT PER SERVING (28g)
SERVINGS PER CONTAINER 25
Calories 110
Fat 0.5 g
Saturated 0.2 g
(+) Trans 0 g
Cholesterol 10 mg
Protein 24 g
Carbohydrates 3 g
Sugars 2 mg
Fibre 1 g
Sodium 70 mg
Potassium 190 mg
Calcium 440 g
Iron 1 mg
Amino Acid Profile per serving (28 g)
L-Alanine 819 mg, L-Arginine 700 mg, L-Aspartic Acid 1799 mg, L-Cystine 209 mg, L-Glutamic Acid 4436 mg, L-Glycine 406 mg, L-Histidine 510 mg, L-Isoleucine 1204 mg, L-Leucine 2112 mg, L-Lysine 1682 mg, L-Methionine 578 mg, L-Phenylalanine 970 mg, L-Proline 2075 mg, L-Serine 1140 mg, L-Threonine 1036 mg, L-Tryptophan 287 mg, L-Tyrosine 1040 mg, Magnesium 1350 mg
Active Ingredients:
Milk Protein Isolate, Whey Protein Isolate, Egg Protein Isolate
Non-Active Ingredients:
Cocoa Powder, Natural Flavour, Gum Blend (Cellulose, Xanthan), Stevia (Leaf) Extract, Salt, Enzyme Blend (Protea...