Biotics Research Hydro-Zyme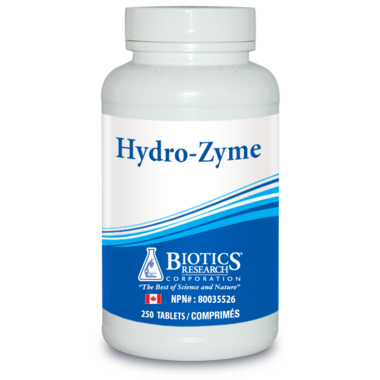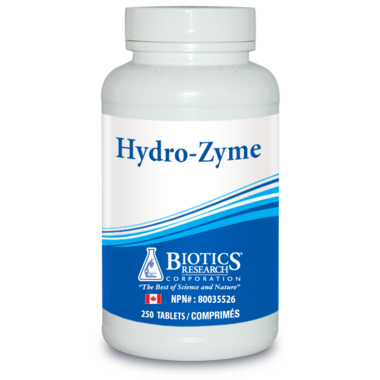 Biotics Research Hydro-Zyme
Hydro-Zyme provides digestive support via supplemental Betaine hydrochloride, Pepsin, Pancreatin, along with other known synergists. It may be considered when the need for supplemental hydrochloric acid and/or Pancreatin are indicated.

Use for chronic indigestion, gastro-intestinal issues, hypochlorhydria (bloating, gas, halitosis, body odor, anemia, etc.), bowel dysfunction (diarrhea or constipation), general digestive support
Dosage: Begin with 2-3 tablets per meal, increase by 1 tablet every three days, until symptoms abate or burning sensation, then reduce dosage or as directed.
Active Ingredients:
Vitamin B6 (as pyridoxine hydrochloride), Betaine Hydrochloride, Glutamic acid (as L-Glutamic acid hydrochloride), Ammonium Chloride, Pancreatin 4X (porcine), Pepsin (1:10,000).
Other Ingredients:
Vegetable culture†, cellulose, stearic acid (vegetable source), modified cellulose gum, silica and food glaze. †Specially grown, biologically active vegetable culture (from organic Pisum sativum, Lens esculenta and/or Cicer arietinum) containing naturally associated phytochemicals including polyphenolic compounds with SOD and catalase, dehydrated at low temperature to preserve associated enzyme factors.
Cautions:
KEEP OUT OF REACH OF CHILDREN.


This product is gluten and dairy free.