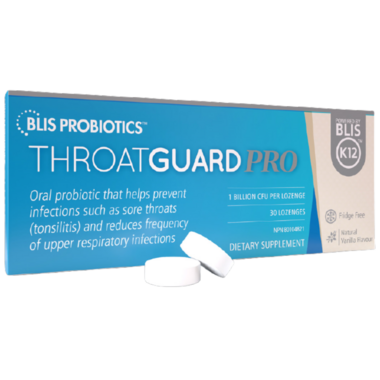 Description
Extra strength probiotic protection for the mouth and throat. ThroatGuard PRO with BLIS K12® is an advanced oral probiotic that helps defend against bad bacteria in the mouth and throat. Each lozenge contains high dose of BLIS K12® (not less than 1 billion colony forming units (CFU) at the end of shelf-life) so you know you are giving yourself the very best probiotic throat protection possible.
Recommended Dosage: (Children 3-12 years, Adolescents 13-17 years, and Adults 18 years and older): general oral health, take 1-2 lozenge(s) per day. For prevention of sore throat due to infection or otitis media in children under 12 years of age, take 1 lozenge per day for 90 days; for adults and children 12 years or older, take 1-2 lozenges per day for 90 days.
Caution:
Do not use this product if you have an immune-compromised condition (e.g. AIDS, lymphoma, patients undergoing long-term corticosteroid treatment) or a milk/dairy allergy. If symptoms of ear, nose or throat infections (e.g. fever, sore throat) develop, consult a health care practitioner. If you have fever, vomiting, bloody diarrhoea or severe abdominal pain consult a health care practitioner prior to use.
Highlights

Features
ThroatGuard PRO with BLIS K12 Promotes oral health through the recolonization of the oral cavity and promotes healthy oral flora
Helps prevent and reduce risk of infections such as sore throat (pharyngitis/tonsillitis)
Helps reduce the frequency of upper respiratory infections caused by certain bacterial and viral microorganisms
Supports and maintains ear health by reducing the incidence of otitis media (ear infection)
Helps to support the immune system to fight illness
Ingredients
Medicinal Ingredient: (Each lozenge contains) Streptococcus salivarius K12 1 billion CFU Non-medicinal ingredients: Trehalose, lactitol, maltodextrin, isomalt, silicified microcrystalline cellulose, natural flavour, magnesium stearate.
Shipping & Returns