Bob's Red Mill Tropical Muesli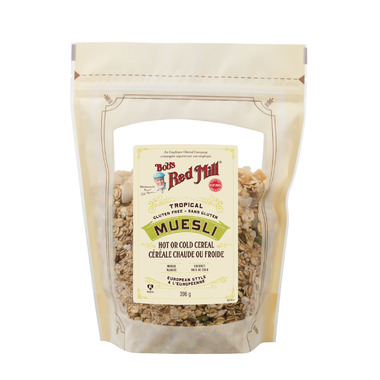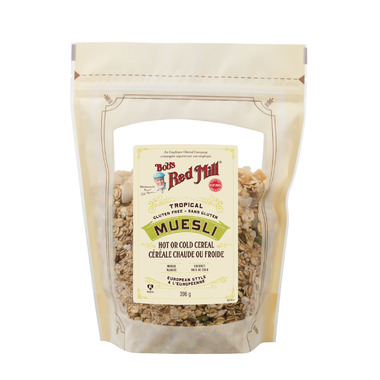 Bob's Red Mill Tropical Muesli
Gluten Free Tropical Muesli is inspired by Dr. Maximilian Bircher-Benner, a Swiss physician in the late 1800's and early 1900's. We've taken liberty with the original recipe and created our own versions of this wholesome cereal. This Gluten Free Tropical Muesli features three favorite Bob's Red Mill gluten free grains while real mango and strawberry pieces pop with fruity bursts. Pumpkin and sunflower seeds partner with almonds and macadamias for a nutty undertone. Add in real, unsweetened coconut and, voila – you may as well be in the Bahamas with Bob's.

Gluten Free Tropical Muesli can be enjoyed hot or cold; served with milk, yogurt, or even juice; soaked overnight; or eaten straight out of the bag! Try baking with it or adding it to your smoothies.

Ingredients: Whole Grain Oats, Mango (Mango, Cane Sugar, Citric Acid), Coconut Flakes, Whole Grain Sorghum, Pumpkin Seeds, Sliced Almonds, Sunflower Seeds, Macadamia Nuts, Freeze-Dried Strawberry Pieces, Quinoa Flour Crisps. Contains Nuts.