60 Quick Dissolving Tablets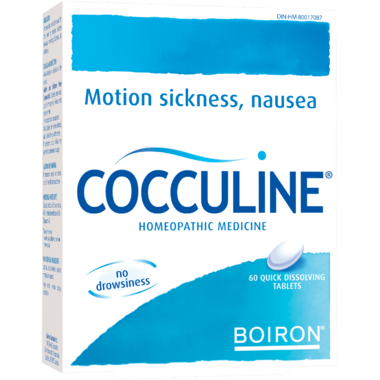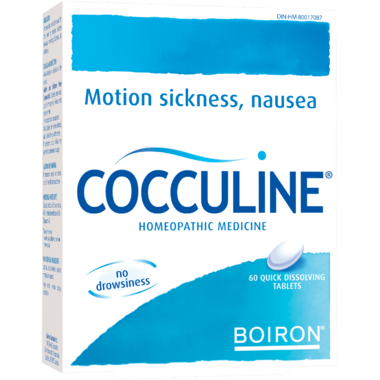 Boiron Cocculine
60 Quick Dissolving Tablets
Boiron Cocculine is homeopathic medicine used for the relief of motion sickness (nausea, vomiting, dizziness, icy coldness).

Directions:
Adults and children from 2 years of age and older: Allow tablets to dissolve. 2 tablets every hour up to 6 times per day. Reduce with improvement. Pre-transportation preparation: Take 2 tablets on the eve of travel, and take 1 tablet the day of the travel. If symptoms occur, follow the general recommended dosage.
Medicinal Ingredients:
Cocculus indicus 4CH,
Nux vomica 4CH,
Petroleum rectificatum 4CH,
Tabacum 4CH.
Non-Medicinal Ingredients:
Lactose, croscarmellose sodium, magnesium stearate
Warnings:
If symptoms persist or worsen, consult a health care practitioner.
Other Info:
Cocculine does not require any special storage conditions.

Brigette:
a few months ago
My 2 year old gets extreme motion sickness. She can't drive more than 10 min without vomiting. I felt terrible giving her gravel to put her to sleep for every necessary trip. I would have to put her to sleep on the way there and back, which really messes with her sleep schedule.
This product has replaced gravol for us for trips under 2 hours.
I feel much better giving it to her and she is much more comfortable during car rides. She can look out the window or play with toys and she is still singing and laughing.
Now, I make sure that I always have this product on hand.
Lorraine:
more than a year ago
My husband had a case of Vertigo and was told to take Gravol,. He did, and it only made him sick with side effects--cold and clammy, tunnel vision and a sense of blacking out. Tried Cocculine as an alternative and what a wonderful difference! No side effects and definitely helped with the Vertigo! Would definitely recommend this product to anyone contemplating taking something for motion sickness or dizziness. Won't do without it now!
Page
1