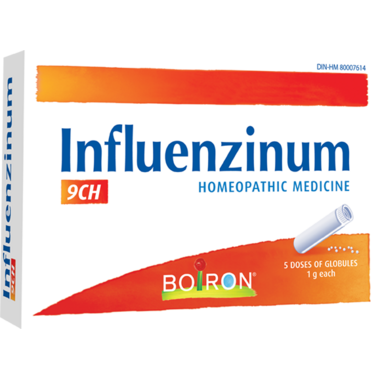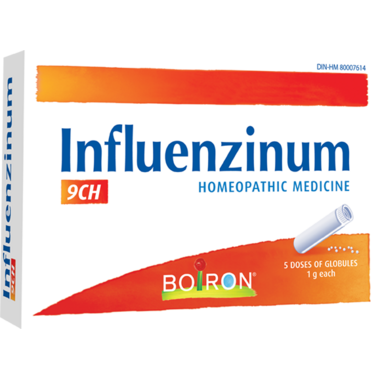 Boiron Influenzinum 9CH is a Homeopathic Medicine.
INFLUENZINUM, manufactured by Boiron Canada, is a homeopathic dilution, prepared from the approved seasonal influenza vaccine. As recommended by World Health Or-ganization (WHO) and confirmed by the European Medicines Agency (EMA), the 2017/2018 composition of influenza vaccine for use in the northern hemisphere is :
A/Michigan/45/2015 (H1N1) pdm09-like virus
A/Hong Kong/4801/2014 (H3N2)-like virus
B/Brisbane/60/2008-like virus
Medicinal Ingredients:
Medicinal Ingredients:
Influenzinum 9CH
*Source information: www.hc-sc.gc.ca/dhp-mps/
prodnatur/index-eng.php
Non-Medical Ingredients:
Sucrose, lactose.
Does not require any special storage conditions.
Directions:
Infants, children and adults. Let the full content of one
single dose-tube melt under the tongue, once a week
for 5 weeks or as recommended by your health care
practitioner. Dissolve dose in a small amount of water
before administration to children under 2.
Caution:
Consult a health care practitioner if symptoms persist
or worsen. Consult a health care practitioner before use
if you are pregnant or breastfeeding. This product is not
intended to be an alternative to vaccination.