BootRescue ShoeRescue Kit
Tin With 20 Individually Wrapped Wipes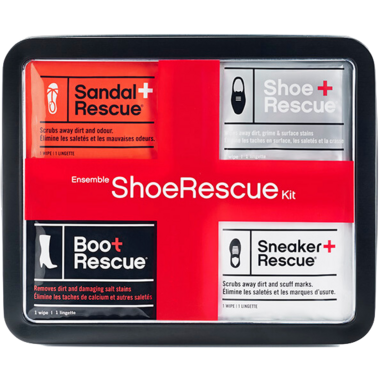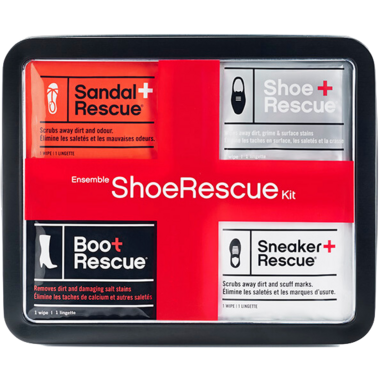 BootRescue ShoeRescue Kit
Tin With 20 Individually Wrapped Wipes
Shoe, Sandal, Boot and Sneaker Cleaning Gift Set by BootRescue. Contains 20 individually wrapped cleaning wipes in a stylish, re-usable gift tin. Remove ugly and damaging salt, dust and mud stains from beloved footwear. The all-natural formula whisks away those ugly salt stains and grime, keeping boots and shoes looking their best. And you can use them on anything – leather, fabric and even the most delicate of suede. Carry them with you for easy cleaning on-the-go. Chemical free and won't damage delicate fabrics or cause harm to you. The best part is you don't have to search for a sink to clean your hands when you're on the go. With BootRescue you get a mess-free clean. Always.
Features:
THE ULTIMATE SHOE LOVERS GIFT SET – Help loved ones keep their shoes, boots, sneakers and sandals looking their best. Makes for a unique gift or stocking stuffer that they're sure to enjoy.
SHOE PROTECTION & RESTORATION – Includes BootRescue to clean and whisk away damaging salt stains, ShoeRescue to remove dirt, mud and surface stains, SandalRescue to scrub off oily footprints from leather and suede footbeds and to clean all over and SneakerRescue to scrub off dirt, mud and grass stains from any type of running shoe.
ALL-NATURAL FORMULA – Cleans without any harsh chemicals that can harm fabric or skin. No need to wash hands after using.
PORTABLE & EASY TO USE – Gift set includes 20 individually wrapped disposable cleaning wipes, 5 of each BootRescue, ShoeRescue, SneakerResue and SandalRescue. Keep them in your purse, briefcase, office, car or home. Perfect for travel.
MULTIPURPOSE CLEANING WIPES – Works great on leather, rubber, fabric and even delicate suede.