Botanica Greens Organic Berry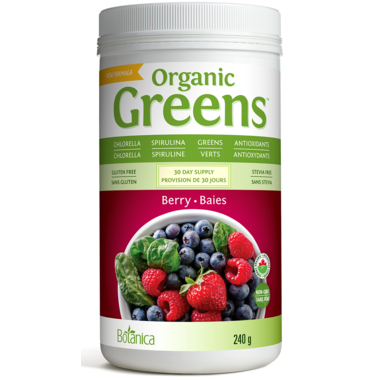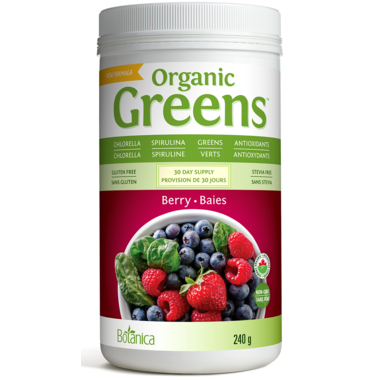 Botanica Greens Organic Berry
Botanica Greens are designed to please the whole family, even the pickiest children. Botanica Organic Greens blend organic chlorella, spirulina, barley and wheat grasses plus leafy greens for a clean and nutrient-dense boost. Botanica Greens taste great, mix easily, and are free of fillers or additives.
Features:
Supports healthy weight management
Supports a healthy immune system
Alkalize, detoxify and energize
Directions:
Stir one scoop of Botanica Organic Greens into 250 ml (8 oz) of water, juice, or your favourite smoothie.
Ingredients:
Greens Blend: Organic Barley Grass, Organic Oat Grass, Organic Wheat Grass, Organic Spinach, Organic Chlorella, Organic Spirulina, Organic Parsley. Antioxidant Blend: Organic Acerola Cherry, Organic Blueberry, Organic Apple Fiber, Organic Acai, Organic Green Tea Leaf, Organic Apple, Organic Rosemary Leaf. Other ingredients: Organic Berry Flavour.
Caution:
Consult a health care practitioner prior to use if you are pregnant or breastfeeding. Store away from children. Do not use if seal is broken. Refrigerate after opening.
Dairy Free. Gluten Free. Non-GMO. Organic. Soy Free. Sugar Free. Vegan.