Bragg Organic Sea Kelp Delight Seasoning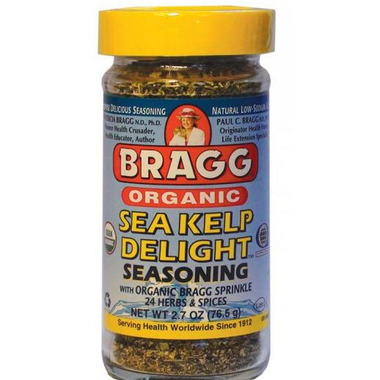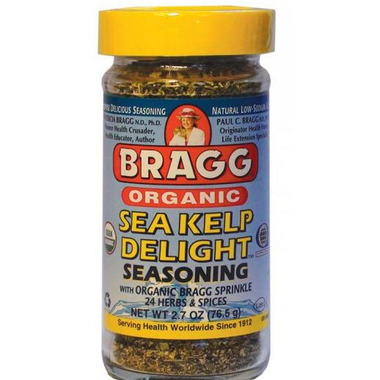 Bragg Organic Sea Kelp Delight Seasoning
Bragg Certified Organic Sea Kelp Seasoning combines 24 herbs and spices for a tasty, healthy sprinkling delight over foods. Bragg Certified Organic Sea Kelp Seasoning is a healthy seasoning for most every meal and is especially suited for low sodium diets.

Ingredients: Kelp, Rosemary, Onion, Garlic, Thyme, Red Bell Pepper, Carrot, Tomato, Black pepper, Basil, Bragg Organic Extra Virgin Olive Oil, Parsley, Tarragon, Lemon peel, Orange peel, Bragg Organic Apple Cider Vinegar, Celery seed, Dill seed, Oregano, Savory, Sage, Ginger, Coriander, Bay leaf, Turmeric.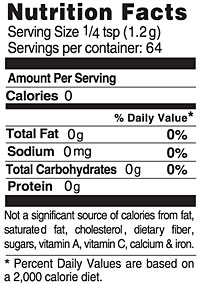 Storage:
Bragg Certified Organic Sea Kelp Seasoning does not need to be refrigerated and should be kept in a cool location out of direct sunlight.
About Bragg Organic:
The Bragg company is the result of a life time of crusading the word of good health worldwide since 1912. Paul C. Bragg, originator of Health Food Stores in America, founded the company, now run by his daughter Patricia Bragg, N.D., Ph.D., who continues to spread the gospel of health by providing natural healthy products, including their popular
Bragg Organic Raw Apple Cider Vinegar.