Britax
Britax B- Free Travel System Midnight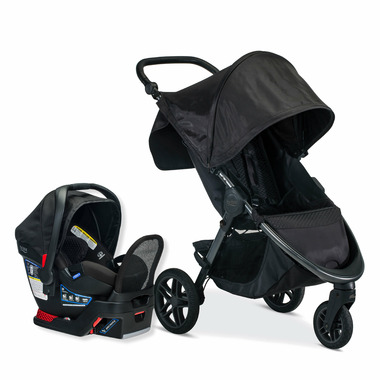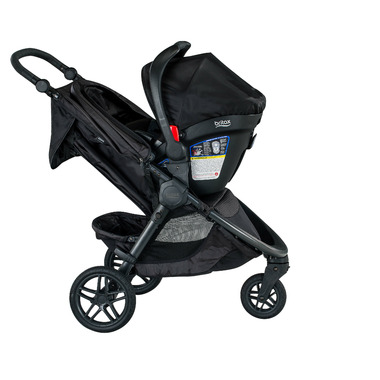 Britax
Britax B- Free Travel System Midnight
Description
Combined with the Endeavours Infant Car Seat, the B-Free Stroller helps you navigate family life safely and smoothly. Seven pockets and an extra-large storage basket make room for snacks and baby gear. An expandable canopy protects your baby from the sun, and 3-wheel configuration provides ultimate maneuverability.
An anti-rebound bar on the car seat base reduces rebound rotation, and the European Belt Guide provides safe, easy installation without the base. Plus, next-level Britax safety technologies protect your little one beyond standards.
Features:
Steel Anti-Rebound Bar on car seat base - Reduces rebound rotation
All-terrain rubber tires - never worry about a flat
European Belt Guide – Safe, secure installation without the base
One-hand fold design easily closes the stroller in seconds
7 storage pockets - Bring more baby gear

Endeavours Infant Car Seat
The Britax Endeavours Infant Car Seat is designed for safety and mobility, so that you have peace of mind your baby is protected no matter how you choose to travel. Britax has raised the bar on rear-facing safety with a steel anti-rebound bar that reduces rebound rotation by up to 30% in the event of a crash. SafeCenter LATCH is an easy and secure installation option when using a base, while the European Belt Guide provides a perfect installation option when installing without the base.
The Click & Go system allows you to pair the car seat with any Britax single stroller for a customized travel system. And, as always, next-level Britax safety features such as side impact protection and SafeCell technologies protect your baby beyond industry standards—so you and your little one can relax and enjoy the ride.
Features:
Steel Anti-Rebound Bar reduces rebound rotation by up to 30% in the event of a crash
2 Layers of Side Impact Protection, w/ deep foam-lined shell and quick-adjust head protection, absorb energy and shield your child from severe collisions
SafeCell Impact Protection is an integrated system of safety components that work to protect your child beyond federal standards
Impact-Absorbing Base compresses to reduce the rough force of a crash
European Belt Guide is a safe and secure option to install the infant car seat without the base
This product is excluded from any special promotions or coupons.
Shipping & Returns
This item does not qualify for free samples.
This Product is shipped without additional packaging. Contents may be visible.
This Product is not eligible for Gift Wrapping
Unfortunately, due to the nature of this item, we cannot accept any returns.
We are only able to ship this item to Canadian customers.
This product cannot be shipped to Remote locations.
Click here for more information