Care Plus
Care Plus Icaridin 20% Deet Free Insect Repellent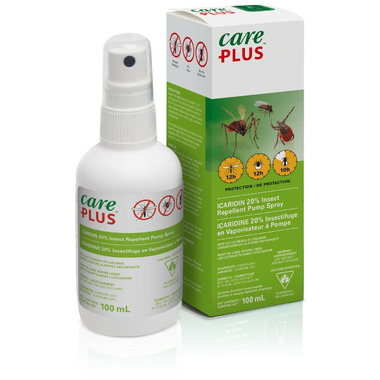 Care Plus
Care Plus Icaridin 20% Deet Free Insect Repellent
100 mL
Care Plus Icaridin 20% Deet Free Insect Repellent
is rated out of
5
by
5
.
---
Description
Icaridin repels insects and makes them less likely to bite. It works in the same way as DEET by blocking the insect's sense of smell to the presence of humans. Care Plus Icaridin 20% provides 12 hour protection against mosquitoes and ticks, and 10 hours of protection against black flies. Studies show that Care Plus Icaridin at a 20% concentration repels mosquitoes and ticks at least as well as DEET 30% and provides longer-lasting protection.
Directions for use: Hold 15-20cms from skin while spraying keeping nozzle pointed away from face. Slightly moisten skin with a slow sweeping motion. Apply sparingly, not under clothing and only when necessary. Do not apply directly to face or to excessively sunburned skin.

To Apply to Face: spray hands and apply avoiding eyes and mouth. Apply sparingly around ears. Supervise applications on children. Do not apply to the hands of smaller children. Do not use on infants under 6 months of age. Avoid contact with eyes, mouth, cuts, wounds or irritated skin. Flammable, do not store near heat sources, sparks or open flame. Do not smoke while applying

Features
Non-scented, non-irritating
Can be safely used on adults and children 6 months and older
Not greasy or sticky
The perfect solution for outdoor work and sports
Provides effective, long-lasting protection against mosquitoes, ticks and black flies
Ingredients
Shipping & Returns
Rated

5

out of

5
by
Itchy
from
didnt get bitten, no smell, non irritating
Have had this in my pack for 2 years and didnt need it until the past 2 days. Nothing round but a million mosquitos and I didn't get bitten until the day when I didnt apply it. Am now itchy and have about 100 bites on arms and back. No smell, non irritating, not greasy. need to go find more.
Date published: 2020-08-17
Rated

5

out of

5
by
Cadence
from
I have been looking for a legitimate insect repellent that works yet doesn't contain DEET. This is the best one I have found yet!
Date published: 2018-07-31
Rated

4

out of

5
by
Shell12345
from
Almost no smell, works great!
We have a lot of mosquitos where I live and this product does a great job of protecting us from them!! There is almost no scent which is a great difference from the stinky deet containing repellants. Highly recommend.
Date published: 2022-06-24
Rated

5

out of

5
by
YVRmom
from
Works very well!
My son and I are usually mosquito attractants, but this seemed to really work! It didn't work one time, but I suspect it was because I forgot to shake the bottle before application.
Date published: 2022-07-30
Rated

4

out of

5
by
Chelsea
from
My insect repellant of choice
I like this product. Mosquitoes love me so this is a must have for summer! I still get a few bites it greatly reduces the number of them so I'm grateful
Date published: 2022-07-30