Central Roast Energy Women's Vitality Mix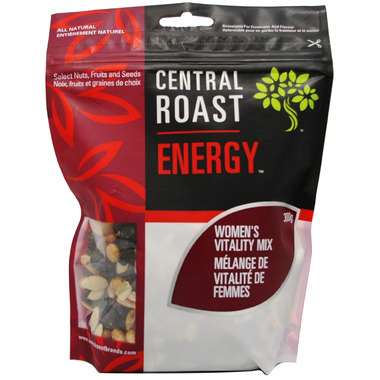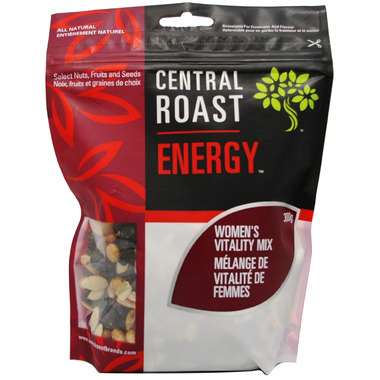 Central Roast Energy Women's Vitality Mix
Snack food and health food are not mutually exclusive. You CAN have snack food that is both nutritious and delicious! Nosh on Central Roast's all-natural and wildly flavourful nuts, dried fruits, seeds, mixes and treats, that satisfy every craving.
This mix has been specially formulated to provide women with an optimal boost of energy and contains extra healthy ingredients like cranberries, soy nuts and pistachios.
INGREDIENTS:
DARK CHOCOLATE CHIPS (UNSWEETENED CHOCOLATE, CALCIUM CARBONATE, EVAPORATED CANE JUICE, COCOA BUTTER, SOY LECITHIN [AN EMULSIFIER], VANILLA), CRANBERRIES (CRANBERRIES, EVAPORATED CANE JUICE, SUNFLOWER OIL), PUMPKIN SEEDS, RAISINS, DRY ROASTED ALMONDS, SUNFLOWER SEEDS, DRY ROASTED CASHEWS, ORGANIC ROASTED SOY NUTS (ORG. SOYBEANS, SALT, ORG. CANOLA AND/OR SOYBEAN OIL), CHERRIES, PISTACHIOS, BLUEBERRIES (BLUEBERRIES, EVAPORATED CANE JUICE, SUNFLOWER OIL).
CAUTION: Cherries may contain pits.
May contain peanuts, tree nuts, sesame seeds, soy, wheat and/or milk.