Centrum Advantage Multivitamin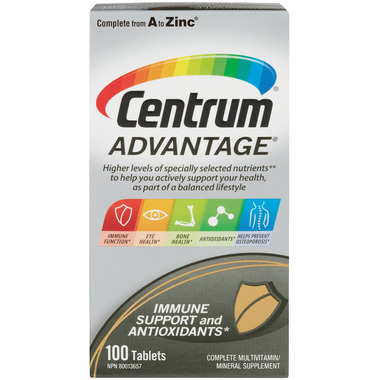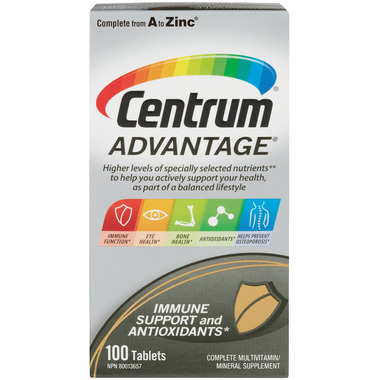 Centrum Advantage Multivitamin
Centrum Advantage contains increased levels of key nutrients for extra protection against serious illness. These include Vitamins B6, B12, Folic Acid and Lycopene that are beneficial for cardiovascular health. Selenium and Lycopene for prostate health. Vitamin D and Folic Acid for breast and colon health. Lutein and Vitamin C for eye health. Plus Calcium and Vitamin D for bone health.
Suggested Use:
2 tablets daily with food
Caution:
Avoid using 2 hours prior to or until 4 hours after taking other medications. Do not use if you have a copper storage or metabolism disorder, such as Wilson's disease.
Ingredients:

Elora:
more than a year ago
Great product that my boyfriend and I both use!

For those who may be wary of whether or not this product works (can be digested), it can. We conducted a little experiment by placing our vitamin in a glass of ordinary tap water (vinegar can be used as well). Then you wait to see if your vitamin dissolves. Now apparently if the vitamin doesn't dissolve at least around 70% within an hour then it's no good.

This vitamin dissolved very quickly and completely before the hour was up!

I use this vitamin in combination with Omega-3&6 tablets, and I feel better than I did without them. Great to use with a healthy diet (and on those not so healthy days) and exercise.
Page
1