Children's Motrin Ibuprofen Oral Suspension Fruit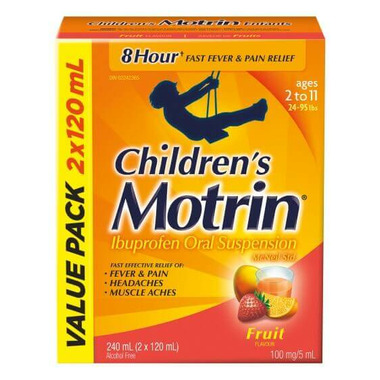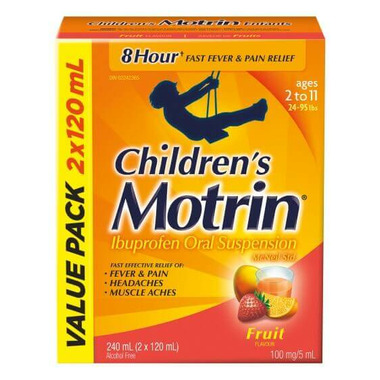 Children's Motrin Ibuprofen Oral Suspension Fruit
Help your kids bounce back with Children's Motrin Suspension - it provides 8 hour* fast fever & pain relief with 20% fewer added ingredients†. (*Reduces fever up to 8 hours.†Non-medicinal ingredients vs. leading ibuprofen children's liquid medication.) Relief of pain due to:
Fever
Cold and cough
Sore throat
Earache
Toothache
Headaches & muscle aches
Features:
8 Hour Fast Fever & Pain Relief
Available in a convenient value pack
Only Fruit Flavored Large Size Liquid in category
Dosage:
When giving any medicine, always read and follow the label carefully.
If you're looking for dosing information for a Motrin product you have already purchased, make sure the product below is the same; otherwise, refer to the label for dosing information. If possible, dose according to body weight. Only use the dosing device provided with the medicine, and do not give more than directed.
If needed, a single dose may be repeated every 6-8 hours. But, do not use more than 4 times a day, unless directed by a doctor. Shake well before using.
Active Ingredient:
100 mg of Ibuprofen per 5 mL.
Non-Active Ingredients:
acesulfame potassium, citric acid, flavour, glycerin, hydroxy propyl distarch phosphate, polysorbate 80, purified water, sodium benzoate, sucrose, xanthan gum
Caution:
Keep this and all medication out of the reach of children. Do not use for more than 5 days for pain or 3 days for fever, unless directed by a doctor. Give with food or milk if mild stomach upset occurs with use. If stomach upset persists, talk to your doctor. Do not give to children who are taking Ibuprofen, acetylsalicylic acid (ASA) or any other pain or fever medication. Do not give to a child who has had an allergic reaction to ibuprofen or products containing acetylsalicylic acid (ASA), other salicylates or other anti-inflammatory drugs, or has ASA-sensitive asthma. Ibuprofen may cause a severe allergic reaction. If any of these reactions occur, stop use and get medical help immediately:
Wheezing
Facial swelling or hives
Shortness of breath
Shock
Fast, irregular heartbeat
Talk to your doctor before use if: Child is experiencing stomach pain or is dehydrated (significant fluid loss) due to continued vomiting, diarrhea or lack of fluid intake. Child has peptic ulcers, high blood pressure, heart failure, serious kidney or liver disease, asthma or if child is under a doctor's care for any other serious condition or is taking any other drug.
Talk to your doctor after use if: Child does not get any relief within 24 hours
Redness or swelling is present in the painful area. Sore throat is severe, lasts for more than 2 days or occurs with fever, headache, rash, nausea or vomiting
If unusual symptoms or any of the following reactions develop during treatment, stop use and see a doctor immediately: skin rash or itching; dizziness; any change in vision; ringing or buzzing in the ears; nausea or vomiting; abdominal pain; diarrhea or constipation; heartburn; bloating; fluid retention. If any new symptoms appear. In case of accidental overdose, even if there are no symptoms, call a doctor or Poison Control Centre at once.
Store at room temperature, 15° - 30°C (59° - 86°F).
Please note: This is not a complete list of side effects or precautions. For more information talk to your doctor or pharmacist.