Claritin Non-Drowsy Allergy Rapid Dissolve
24 Hour
10 Mint Flavour Tablets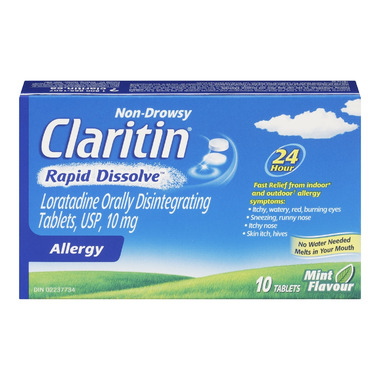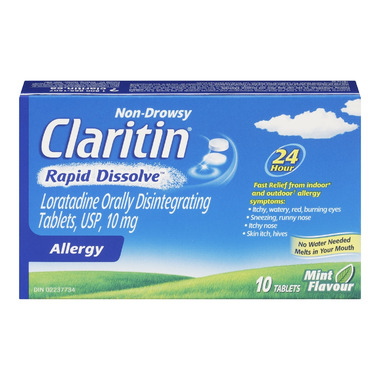 Claritin Non-Drowsy Allergy Rapid Dissolve
24 Hour
10 Mint Flavour Tablets
Rapid Dissolve tablets with a fresh minty taste! Claritin's unique allergy tablet dissolves instantly on the tongue for fast relief of your allergy symptoms -- no water required!


Allergy: Pollen, ragweed, grass, dust, pets and molds.

24 Hour Relief From:

Itchy, watery eyes
Sneezing
Runny nose
Dosage:
Adults and children over 12 years of age: 1 tablet every 24 hours.

Medicinal Ingredient:
10 mg loratadine USP
Caution
: If you have liver disease, seek the advice of a physician before using this product. Not recommended for nursing or pregnant women. Prescribing information available to health professionals upon request. Keep this and all medication stored in a safe place and out of reach of children. Store between 20° and 25°C. Use immediately upon opening tablet blister. Read instructions on the insert before using.
Anna:
more than a year ago
This is my favourite OTC allergy medication. It's the only one I've found that doesn't contain corn starch (I'm allergic, it sucks); it works quickly; and it tastes okay (mildly minty). It easy to carry around in my purse because I don't have to worry about carrying water.

Will it work forever? Nope, but none of the medications do. I'll probably have to find another one for next season.
1