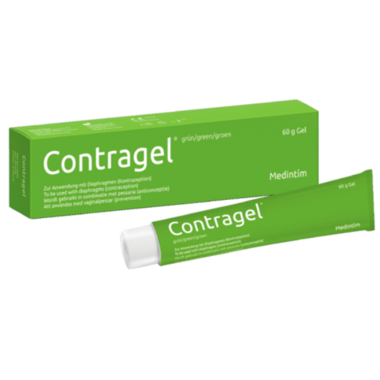 60 mL
ContraGel Green Gel
is rated out of
5
by
21
.
---
Description
Natural and water based Spermicide used with Diaphragm products. Approved By Health Canada .
When we talk of a regular spermicide we are talking about an nonoxynol-9 based products such as gygel where nonoxynol-9 is the an active ingredient and micro b side which breaks down the sounds of the sperm but unfortunately it also breaks down the souls of the skin. It cannot distinguish between the two and so both the man and the woman are exposed to this and there is a lot of reported itchiness with this. It is Natural, its vigor and is non-toxic, vegan, gluten free, and water based.
Contragel comes in 60mL tube and approved by health canada. Many women like to use fem caps or other Contoured Diaphragm products which are well rounded, but human body parts from inside are not very well rounded and leave a gap. Contragel helps in plugging such gaps and forms a part of a physical barrier in association with femcap or another Diaphragm products. please read instructions which clearly state that a spermicide products should be used with a Diaphragm.
Features:

Totally Hormone Free
Instantly Reversible Contraception
Totally Free of Nonoxynol 9
Over 35 Years Production History
European Manufactured
CE 0124 Certified and Health Canada Approved
Ingredients: Water, Lactic Acid, Sodium Lactate, Methyl Cellulose, Sorbic Acid

Highlights

Shipping & Returns
Unfortunately, due to the nature of this item, we cannot accept any returns.
We are only able to ship this item to Canadian customers.
Click here for more information
Rated

5

out of

5
by
Annie
from
I used to buy the Caya gel with the applicator and was very satisfied with it. But since Contragel is the same exact product with a different name and it costs a little less, I'm going to buy this gel instead from now on. No smell and no irritation, really it's a shame our doctors don't talk to us about the advantages of using a diaphragm. They sure make more money when we use hormonal contraceptives!
Date published: 2015-12-18
Rated

5

out of

5
by
R
from
I wish this was approved and sold in the US---so far I really like it and am so glad I don't have to worry about side-effects. I also wish it came with some sort of applicator, for those who aren't using it with a diaphragm but with condoms. For those of you buying from the US, this is the cheapest place on the web I've found.
Date published: 2011-12-26
Rated

5

out of

5
by
Jess
from
Reading other reviews on spermicide and how much it irritated some people. I Wanted to find something that wouldn't irritate me. I am sensitive to a lot. So far I have no complaints about this product, very satisfied.
Date published: 2017-03-21
Rated

5

out of

5
by
Megan
from
This is a reliable and non-irritating product. I highly recommend it. I've been using it with the Fem cap for 6 years, and have no plans to change contraceptives. Quick shipping to the US.
Date published: 2012-05-01
Rated

5

out of

5
by
Lila
from
Easy to use, no irritation
I use this with my milex diaphragm. Easy to apply. No irritation. If you use without a diaphragm or cap you can purchase an applicator. Good price and quick shipping.
Date published: 2020-10-03
Rated

5

out of

5
by
Breannsmusings
from
Easy to use, best on the market
Been using this for over 3 years. Easy to apply to my diaphragm. Must be used with a barrier method. Gel like texture to immobilize. No smell. Non irritating.
Date published: 2021-09-04
Rated

4

out of

5
by
Rachel
from
Thank goodness for Well.ca. My spermicide gel options in the US just don't work for me. This product is great!
Date published: 2012-03-14
Rated

5

out of

5
by
o
from
Great Product. I've never been able to use any spermicide without irritation. This one left me with zero irritation. Works great with a diaphragm, and it even smells nice!
Date published: 2014-01-06