Degree Women Active Shield Dry Spray Antiperspirant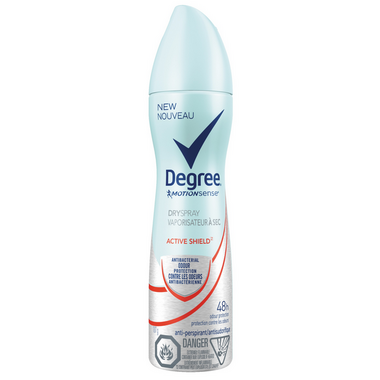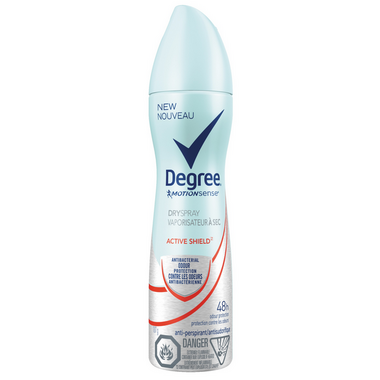 Degree Women Active Shield Dry Spray Antiperspirant
Try Degree® Dry Spray Antiperspirant Deodorant Active Shield™, it goes on instantly dry for a cleaner feel. Degree Active Shield helps reduce odour-causing bacteria by over 90%. Less bacteria means less body odour, so you can stay fresh and confident all day.

This antiperspirant features Degree's long lasting MOTIONSENSE® formula, and can help stop sweat and odour in its tracks. The formula contains smart capsules with direct movement response. Degree® Motionsense technology releases bursts of freshness with every move you make. The more you move, the more it works.

We mainly sweat to cool our bodies down, a process called thermoregulation. Our brain sends signals to perspire, releasing a clear fluid from over 3 million sweat glands (or sudoriferous glands) and as this fluid evaporates from our skin, it lowers our body temperature. When life demands more from you in the gym, in the office or out and about meeting friends, Degree Dry Spray Antiperspirant Deodorant Active Shield will help protect you from sweat and odour.

Features:
Long-lasting, 48 hour protection
Eliminates odour-causing bacteria
Keeps you feeling dry and fresh
Ingredients:
Cyclopentasiloxane, Aluminum Zirconium Tetrachlorohydrex, Stearyl Alcohol, C12-15 Alkyl Benzoate, PPG-14 Butyl Ether, Hydrogenated Castor Oil, Parfum, Polyethylene, Caprylic/Capric Triglyceride, Sodium Starch Octenylsuccinate, Maltodextrin, Hydrolyzed Corn Starch, Hydrated Silica, Gelatin Crosspolymer, BHT, Silica, Cellulose Gum.