Doctor's Choice Thyroid Support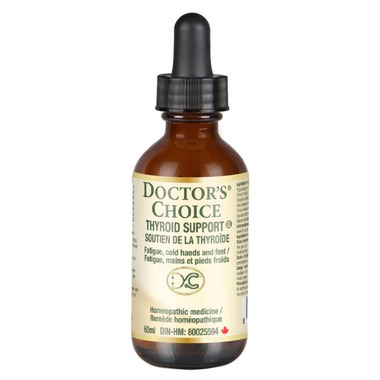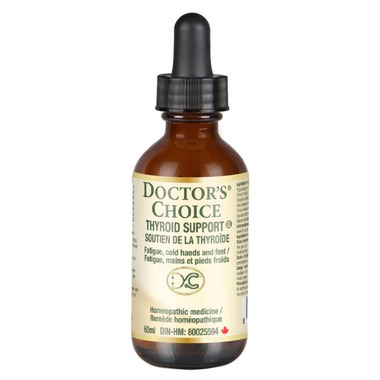 Doctor's Choice Thyroid Support
The thyroid gland is the Master and Commander of many bodily processes. Surrounding the windpipe at the base of the neck, it produces a number of hormones, primarily thyroxine. Thyroxine is essential to sexuality in women, providing a glandular link between the brain and the organs of reproduction. The other principal thyroid hormone is calcitonin, which inhibits the release of calcium from bone and plays a central role in maintaining both calcium balance and strong bones. The thyroid gland directly influences circulation, respiration, and tissue growth and repair.
This is a homeopathic remedy used to help relieve symptoms such as weakness, fatigue, cold hands and feet, dry skin, and chilliness, all of which speak to an imbalance in thyroid gland function.
Features:
Relieves symptoms of thyroid imbalance such as: weakness, fatigue, cold hands and feet, dry skin and chilliness.
Controls weight gain or loss
Lowers blood pressure
With Potassium Iodine- helpful for radiation exposure
100% Pure Pharmaceutical Grade
Non-GMO
Active Ingredients:
Thyroid religion 8X
Ferrum Iodatum 8X
Calc Iodata 8X
Kali Iodatum 6X
Fucus vesiculosus 6X
CAUSTICUM 3X
Natrium mur 3X
Thyroidinum 8X
Ferrum Iodatum (iodure ferreux) 8X
Calcarea Iodata (iodure de calcium) 8X
Kali Iodatum (iodure de potassium) 6X
Fucus vesiculosus (thalle entière) 6X
Causticum (chaux brûlée) 3X
Natrium muriaticum (chlorure de sodium) 3X
Non-Active Ingredients:
Purified Water, Ethanol, Glycerin
Be sure to consult a health care practitioner prior to using this product, if you are pregnant or breastfeeding.