Douglas Laboratories Brain MEMORY
Brain Memory, by Douglas Laboratories, is a combination of nutrients specially designed to support production of acetylcholine, which plays an important role in brain processes associated with sharpness and memory.
Features:
Ginkgo biloba supports the flow of blood and oxygen through capillaries to the brain
An extract of the Chinese club moss, Huperzia serrata, huperzine A is an effective inhibitor of acetylcholinesterase, the enzyme that degrades acetylcholine, the neurotransmitter important for normal memory and learning function
Research has also found that acetyl-L-carnitine is active in optimizing the functioning of nerve cell membranes
Indication:
Brain Memory may be a useful dietary supplement for individuals wishing to support neurological functioning and acetylcholine production.
This product contains NO yeast, wheat, gluten, soy, milk/dairy, corn, sodium, sugar, starch, artificial coloring, artificial preservatives or genetically modified organisms (GMOs).
Suggested Usage:
As a dietary supplement, adults take 1 capsule before breakfast and 1 capsule before dinner, or as directed by your healthcare professional.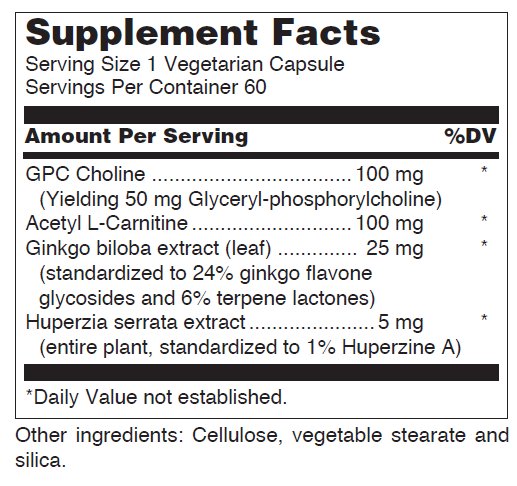 Similar Antioxidants & Other Supplements
Other Douglas Laboratories Products