Douglas Laboratories Glucosamine + MSM Forte
Glucosamine + MSM® Forte™ capsules, provided by Douglas Laboratories®, contain 500 mg of pure glucosamine sulfate and 250 mg of methylsulfonylmethane (MSM®). Ascorbic acid, proanthocyanidins, and bromelain are also included to provide additional aid in maintaining the health of aging joints.
Indications:
Glucosamine + MSM® Forte™ capsules may be a useful nutritional adjunct for individuals who wish to support the structure and function of the body's connective tissues, such as cartilage, bone, tendons, ligaments, and skin.
This product contains NO yeast, wheat, gluten, soy, milk/dairy, corn, sodium, sugar, starch, artificial coloring, artificial preservatives, artificial flavoring, or genetically modified ingredients (GMOs).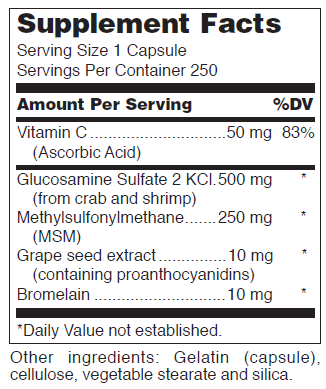 Warning:
If you have an allergy to shellfish, (including crab and shrimp) you should not use this product.

Suggested Usage:
As a dietary supplement, adults take 1 capsule daily or as directed by your healthcare professional.
OptiMSM® (distilled methylsulfonylmethane) is a proprietary ingredient exceeding industry standards for optimal purity. OptiMSM® is a registered trademark of Bergstrom Nutrition, Inc.