Douglas Laboratories Joint Tendon Ligament I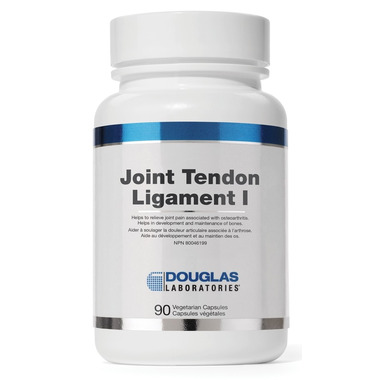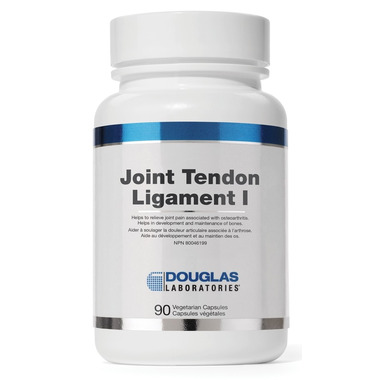 Douglas Laboratories Joint Tendon Ligament I
Douglas Laboratories Joint Tendon Ligament I is formulated with specific ingredients, including boswellia, to help relieve joint pain associated with osteoarthritis.
AprésFlex® is a proprietary Boswellia serrata extract that provides a standardized bioavailable amount of Acetyl-11-keto-b-boswellic acid (AKBA). It targets mediators of joint comfort and flexibility, such as TNF-alpha and 5-lipoxygenase (5-LOX). 5-LOX is a member of the lipoxygenase family of enzymes and excess levels of this enzyme sets in motion responses that contribute to the pain and inflammation of osteoporosis. AprésFlex® has also been shown to inhibit MMP-3 (matrix metalloproteinase-3) enzyme activity, therefore helping to relieve joint pain associated with osteoarthritis. Other Boswellia serrata extracts can be poorly absorbed, however AprèsFlex® has been shown to absorb into the blood 52% more than other boswellia extracts.
Cynatine® FLX is a natural bioactive keratin extracted from premium quality pure New Zealand wool using a unique patented process. Keratin is a protein found throughout the body and has important structural roles in cells and tissue. This intriguing protein also has one of the highest proportions of the amino acid cysteine, a natural reservoir of sulphur.
Joint Tendon Ligament I can be taken to help relieve joint pain associated with osteoarthritis in conjunction with Joint Tendon Ligament II to help in the development and maintenance of cartilage and bone.
Features:Ingredients:
Cynatine® FLX (Hydrolyzed keratin) 166.7 mg
MSM (methylsulfonylmethane, dimethyl sulfone) 133.3 mg
L-Arginine 133.3 mg
Glycine (aminoacetic acid) 83.3 mg
L-Proline 83.3 mg
ApresFlex® Boswellia extract (Boswellia serrata, gum oleoresin)
(20 % 3-Acetyl-11-keto-beta-boswellic acid) 33.3 mg
European strawberry (Fragaria vesca, whole plant)
(25 : 1, QCE 207.5 mg, 2% polyphenols) 8.3 mg
Spinach (Spinacia oleracea, leaf) (30 : 1, QCE 249 mg, 1.5% polyphenols) 8.3mg
Silicon (Silicon hydrolyzed vegetable protein (HVP) chelate) 5 mg
Enzogenol® Monterey pine (Pinus radiata) (Stem bark) 3.3 mg
Hyaluronic acid (sodium hyaluronate from Streptococcus equi) 1.7 mg
Manganese (Manganese bisglycinate) 0.67 mg
Cynatine® FLX is a registered trademark of Roxlor, LLC.
Enzogenol® is a registered trademark of Enzo Nutraceuticals.
ApresFlex® is a registered trademark of Laila Nutraceuticals exclusively licensed to PL Thomas – Laila Nutra LLC. International patents pending.