Douglas Laboratories Vitamin D 1000 IU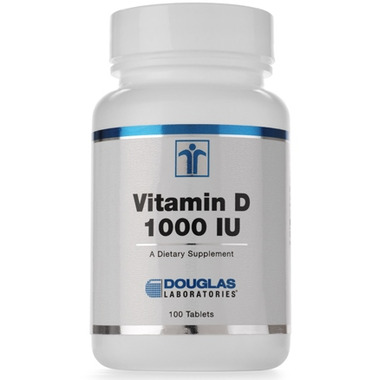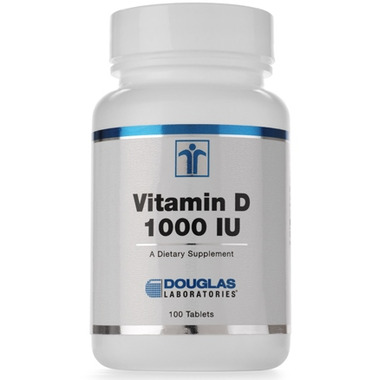 Douglas Laboratories Vitamin D 1000 IU
Vitamin D, provided by Douglas Laboratories®, supplies 1000 IU of Vitamin D-3 per tablet.
Vitamin D, also known as the "sunshine vitamin" is an essential vitamin that plays many important roles in the proper functioning of the body. Though classified as a vitamin, vitamin D is actually a key regulatory hormone for calcium and bone metabolism. Adequate vitamin D status is essential for ensuring normal calcium absorption and maintenance of healthy plasma calcium levels. Besides bone support, vitamin D has many other roles in the body, including modulation of cell growth, neuromuscular and immune function.
Indications:
Vitamin D may be a useful dietary supplement for those who wish to increase their daily D intake.
This product contains NO yeast, wheat, gluten, soy, milk/dairy, corn, sodium, sugar, starch, artificial coloring, artificial preservatives, artificial flavoring, or genetically modified organisms (GMOs).

Suggested Usage:
As a dietary supplement, adults take 1 tablet daily or as directed by your healthcare professional.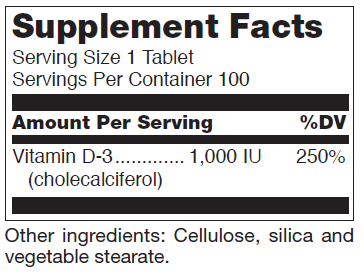 Karen:
a few months ago
I recently had blood work to figure out causes for my fatigue. It turns out I am D deficient. I have been taking this for a few weeks and am feeling an improvement. Douglas Labs are highly rated in vitamin journals as well for their absorption rate. Good shipping time although processing order took a few more days than I would have liked.
Page
1