Botanica
Dr. Ohhira's Probiotics by Botanica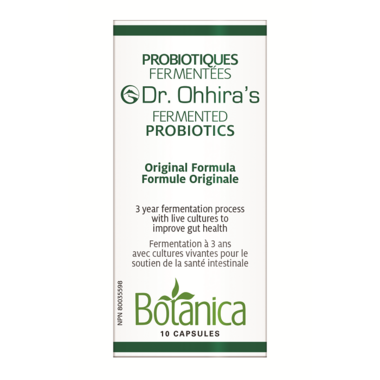 Botanica
Dr. Ohhira's Probiotics by Botanica
Description
Dr. Ohhira's Probiotics by Botanica combines ancient Japanese fermentation skills and modern science to create a powerful formula that changes the GI environment to benefit healthful strains and discourage the bad. Twelve carefully selected strains are used in a 3-year fermentation process to maximize health-giving properties and to foster the strongest bacteria.
Features:
Complete Probiotic System with Live Cultures
Original Vegetarian Formula

Directions:
Take 2 capsules daily or as directed by your health professional. For best results, take 1 capsule with water twice a day on an empty stomach. Temporary reactions such as minor bloating or a mild laxative effect are signs that the beneficial bacteria is detoxifying and improving the gut environment.
Ingredients:
Proprietary Fermented Culture of 92 fruits, vegetables, mushrooms and seaweeds containing prebiotics, enzymes, bacteriocins and trace amount of vitamins, minerals and amino acids. Proprietary Organic Acid Blend: citric acid, lactic acide, formic acid, acetic acid. Proprietary Lactic Acid Bacteria Blend: 900 million CFU Ingredients are fermented and processed for three years using 12 strains of lactic acid bacteria. Other ingredients: Mountain spring water, safflower oil, beeswax, lecithin, capsule (tapioca processed from Manihot utilissima root, glycerin, carrageenan, and caramel color). Lactic Acid Bacteria used in fermentation: Bifidobacterium breve ssp. breve, Bifidobacterium infantis ssp. infantis, Bifidobacterium longum, Enterococcus faecalis TH10, Lactobacillus acidophilus, Lactobacillus brevis, Lactobacillus bulgaricus, Lactobacillus casei ssp. casei, Lactobacillus fermentum, Lactobacillus helveticus ssp. jugurti, Lactobacillus plantarum, Streptococcus thermophilus. Contains fermented soy.
Warning:
Keep out of reach of children. If pregnant or nursing, ask a health professional before use. Do not use if foil blister pack is broken.
Dairy Free, Gluten Free, Non-GMO, Vegetarian

Please be advised that Well.ca follows manufacturer guidelines for storing & shipping probiotics.

Highlights

Shipping & Returns