Dr. Scholl's Women's Sheer Graduated Compression Support Socks
Moderate Support, Black, Size 5.5-7.5
1 Pair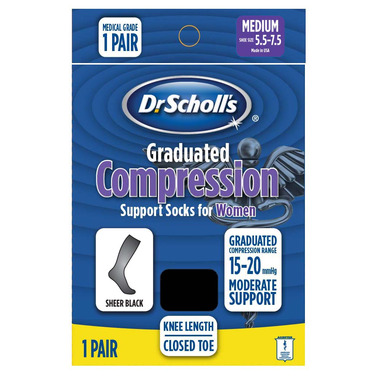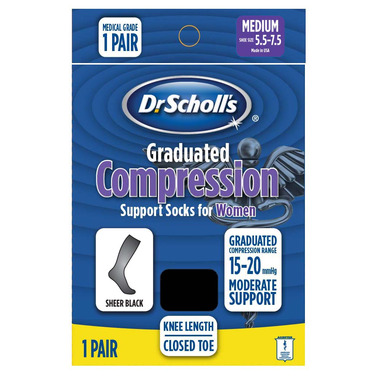 Dr. Scholl's Women's Sheer Graduated Compression Support Socks
Moderate Support, Black, Size 5.5-7.5
1 Pair
Dr. Scholl's Women's Sheer Graduated Compression Support Socks are designed to provide your legs with the comfort and relief you need everyday, all day. Constructed with the greatest support at the ankle that graduates up the leg to improve circulation which energizes, renews and restores leg comfort.
Benefits:
Helps with tired, achy legs, varicose veins, edema, swelling, traveling, post surgical procedures, DVT (Deep Vein Thrombosis)
Graduated Compression
Range 15-20mmHg
80% Nylon, 15% Cotton, 5% spandex
Emilia:
about a year ago
Decided to try these before going with a more expensive, medical grade pair. Purchase for leg swelling associated with pregnancy, specifically for a long road trip with extended stints sitting in a car. These worked wonderfully - on the longest day, we clocked in 9 hours in the car and I had almost zero swelling. They are reasonably stylish/neutral looking as well.
Page
1