Dulcolax Dulcocomfort 25's Stool Softener
Docusate Sodium 100 mg
25 Liquid Gel Capsules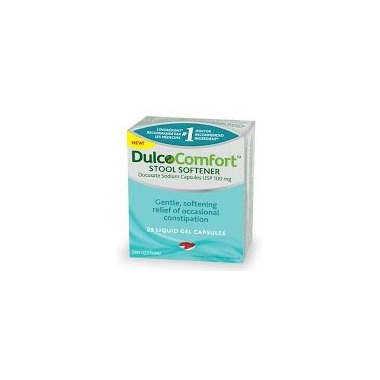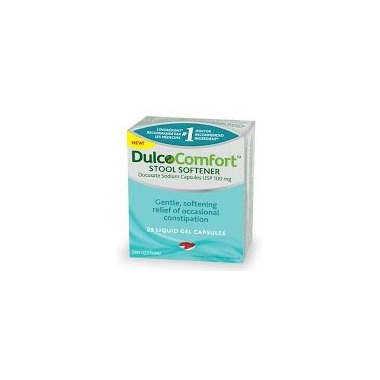 Dulcolax Dulcocomfort 25's Stool Softener
Docusate Sodium 100 mg
25 Liquid Gel Capsules
Dulcolax Dulcocomfort 25's Docusate Sodium 100 mg is a stool softener that provides gentle softening relief.

Directions: Take liquid gel capsules with a glass of water or more. Adults: 1 to 2 liquid gel capsules, maximum 5 daily. Children 6-12 years: 1 liquid gel capsule daily. Children under 6 years: as directed by a doctor. Capsules take effect in 1 -3 days.

Ingredients: D&C Red #33, edible ink, FD&C Blue #1, FD&C Red #40, FD&C Yellow #6, gelatin, glycerin, polyethylene glycol, propylene glycol, purified water, sorbitol sorbitan solution and titanium dioxide

Cautions: Do not use in the presence of abdominal pain, nausea, fever or vomiting or within 2 hours of another medicine since the desired effect of the other medicine may be reduced. Overuse or extended use may cause dependence for bowel function. Do not take for more than a week without consulting your doctor. Store at 15-30°C. Protect from excessive humidity. Keep out of reach of children.