Ecozone Forever Flush Twin Pack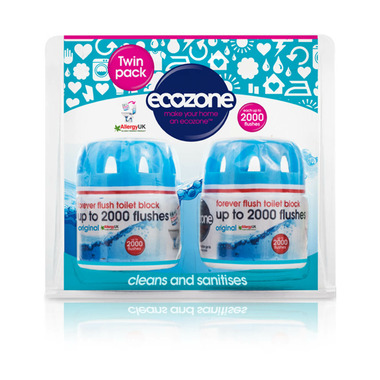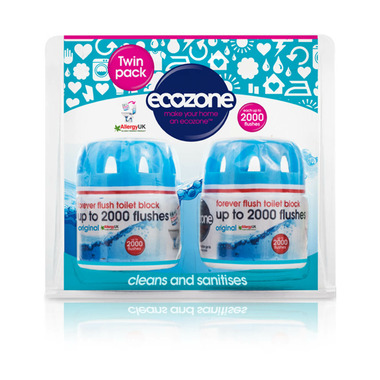 Ecozone Forever Flush Twin Pack
Simply pop the small jar into the cistern where Forever Flush toilet block will continue to work effectively for up to 2000 flushes, helping to prevent stains and limescale. The blue water indicates the toilet bowl is sanitary, stain free and deodorized.
Features:
Lasts for up to 2000 flushes (around 4 months)
Triple powerful action it cleans, sanitizes and protects
Colours the water a fresh ocean blue without staining the bowl
Very easy to use, does not require installation, just pop in the cistern
Biodegradable and non-toxic
Approved by The Vegan Society
Cruelty Free International approved
Directions: Remove the Forever Flush out of it's packaging and insert the block in the toilet cistern. There is no need to remove either the cap or the seal, just drop the Forever Flush straight into the cistern. After many flushes, once the content of the block has been used, just remove the block from the cistern ensuring to turn it upside down to help release all trapped water. Important: The Forever Flush has stopped working when the water flushed is completely clear. At this point, the block should be removed and replaced with a new Forever Flush.
Ingredients: Sodium Sulphate Anhydrous, Sodium Hydroxide, Coco Alkyl Diethanolamides, Water