EVOLVh Curls Discovery Kit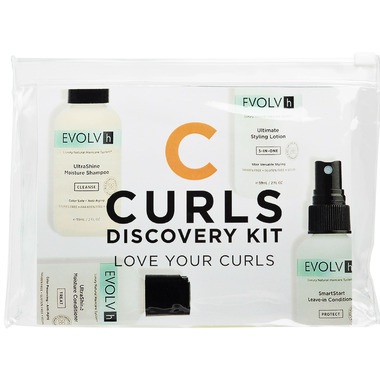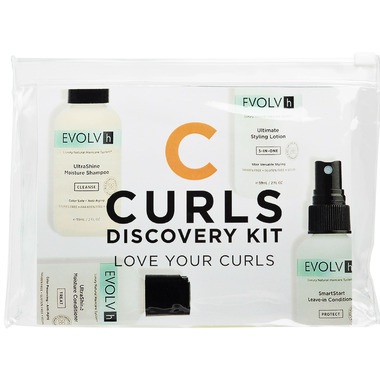 EVOLVh Curls Discovery Kit
The EVOLVh Curls Discovery Kit is a complete all-natural system that makes it easy to create beautiful, soft ringlets and reduce frizz without any "crunch". The UltraShine Moisture Shampoo and UltraShine Moisture Conditioner moisturize and condition the hair to prepare for the perfect curl. The SmartStart Leave-In Conditioner is a game changer for reducing frizz, adding moisture and softness without added weight. The Ultimate Styling Lotion has been dubbed "ringlets in a bottle" by stylists and clients. The 5-In-One botanical formula creates volume, holds style, de-frizzes, adds shine and or defines curls into smooth ringlets.
Discovery Kit Includes:
2 oz UltraShine Moisture Shampoo
2 oz UltraShine Moisture Conditioner
2 oz SmartStart Leave-in Conditioner
2 oz Ultimate Styling Lotion
Reusable Recyclable Zip Pouch + Instruction Card
Gorgeous Smooth Curls in 5 Easy Steps:
1. Cleanse and Treat hair with UltraShine Moisture Shampoo and Conditioner.
2. Wrap hair in soft t-shirt or towel to remove excess moisture.
3. Mist hair liberally from roots to ends with SmartStart Leave-in Conditioner.
4. Apply Ultimate Styling Lotion, distributing product evenly down the hair shaft. Use fingers to create desired ringlet shape.
5. Let air dry as much as possible. Avoid excessive touching of hair. One or two soft "scrunches" are OK but don't overdo it.
Organic, natural, paraben free, sulfate free, gluten free, vegan, never tested on animals, made in the USA