EVOLVh Curls Discovery Kit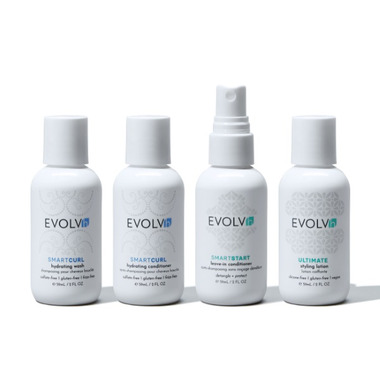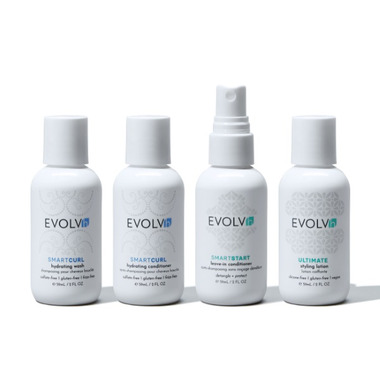 EVOLVh Curls Discovery Kit
- We're sorry, this product is no longer available!
- Shop for other products in: Shampoo

Gorgeous, Smooth Curls in 4 Easy Steps. Create beautiful, soft ringlets and reduce frizz without any "crunch." The dream-come-true system for curly hair, made with optimal natural & organic ingredients for gorgeous, easy to manage, frizz-free curls. The formulas achieve unsurpassed results for any curl type without adding weight or coating.

Discovery Kit Includes:
2oz of SmartCurl Hydrating Wash & Conditioner
SmartStart Leave-In Conditioner & Ultimate Styling Lotion

Features:

Ultra-hydrating creamy rich formula gently cleanses and revives curls
SmartCurl are zero build-up products and represent a significant advance in curl care.
SmartCurl Hydrating Wash & Conditioner gently cleanse, moisturize and condition the hair to prepare for the perfect curl.
SmartStart Leave-In Conditioner is a game changer for heat protection, detangling, reducing frizz, adding moisture and softness without added weight.
Ultimate Styling Lotion has been dubbed "ringlets in a bottle" by stylist and clients. The 5-In-One botanical formula creates volume, holds style, de-frizzes, adds shine and or defines curls into smooth ringlets.
Instructions:
Cleanse and Treat hair with SmartCurl Hydrating Wash & Conditioner. Wrap hair in soft t-shirt to remove excess moisture. Mist hair liberally from roots to ends with SmartStart Leave-in Conditioner. Apply Ultimate Styling Lotion, distributing product evenly down the hair shaft. Use fingers to create desired ringlet shape. Let hair air dry. Avoid excessive touching of hair until dry. A few soft "scrunches" are ok but don't overdo it.