Feline Natural Chicken and Grass-Fed Venison Feast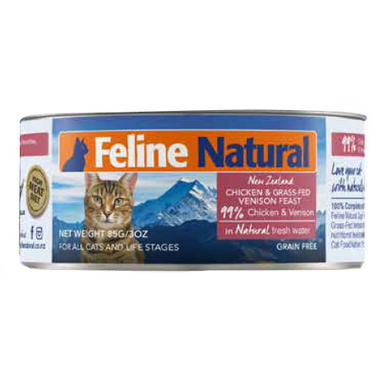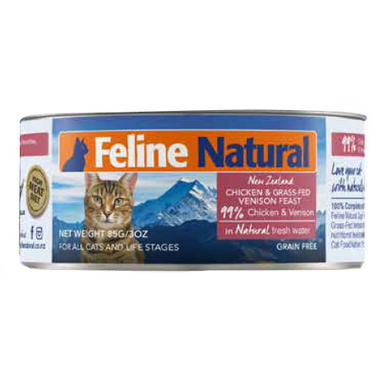 Feline Natural Chicken and Grass-Fed Venison Feast
Feline Natural Chicken and Grass-Fed Venison Feast is a premium canned cat food that provides over 80% moisture in each can which supports hydration. Feline Natural cans are the perfect balanced diet or ideal nutrient rich high meat boost to add to your cats existing diet. Cats fed dry food diets take in just half the moisture of a cat eating canned food.
These cans are free from all gelling agents, the only thing add is natural fresh New Zealand water. Simply pop the top and drop the contents out with ease and no mess.
Features:
99% Cage Free Chicken & Free Range Grass-Fed Meat
0% Grain, Gluten, GMO ingredients, Corn, Soy, Dairy, Rice, Cereals, Potato or other Gelling Agents or Fillers
No meat by products, artificial preservatives, colours or flavours.
Ingredients:
Chicken, Venison Heart, Venison Kidney, Venison Liver, Venison Blood, Flaxseed Flakes, New Zealand Green Lipped Mussel, Dried Kelp, Vitamin E Supplement, Zinc Proteinate, Canola Oil, Manganese Proteinate, Thiamine Mononitrate, Vitamin D3 Supplement, Folic Acid. Water added for processing.
GUARANTEED ANALYSIS
Minimum Crude Protein 10.4%
Minimum Crude Fat 3.3%
Maximum Crude Fibre 0.03%
Maximum Moisture 83.4%
Minimum Taurine 0.25%
CALORIE CONTENT ME (CALCULATED)
650 kcal/kg, 55 kcal/85g can
650 kcal/kg, 111 kcal/170g can

Laurie:
a few months ago
Excellent quality meat and my cat devours it. NOTE: My cat is violently allergic to thickeners like carageenan, guar gum, xanthan gum etc. This food has no thickeners so don't be alarmed when you open it and see a layer of liquid over the meat. That's normal when no thickeners are used to bind the liquid to the meat. I just stir the liquid into the food each time I use it and it's fine. Thickeners are used to make the food look better to humans and have no value for your cat and can cause digestive problems.
Page
1