Flora
Flora Apple Cider Vinegar Ginger And Lemon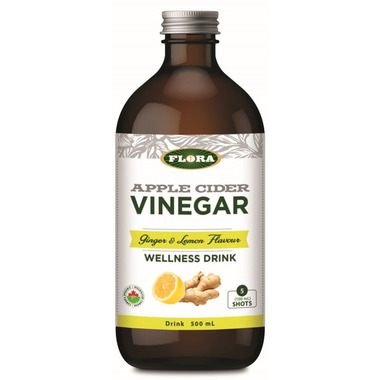 Flora
Flora Apple Cider Vinegar Ginger And Lemon
Description
Flora's Apple Cider Vinegar Wellness Drinks are thoughtfully brewed in small batches using freshly ground organic herbs blended with apple cider vinegar. The complex flavour of these wellness drinks is rounded out by a herbal tea blend which utilizes cleansing herbs.
Enjoy the crisp tang of apple cider vinegar combined with the refreshing citrus flavour of sweet lemon and the spicy notes of ginger. This stimulating wellness drink will rejuvenate your senses and support healthy digestion.
Dosage:
Enjoy 100 ml serving before or with meals.
Features:
Certified Organic
Non GMO
Caffeine Free
Gluten Free
Vegan
Kosher
Ingredients:
Herbal preparation (water, ginger * burdock*, sheep sorrel*, slippery elm*, red clover *, blessed thistle*, rhubarb*, kelp*), apple cider vinegar*, sugars
( concentrated apple juice *), natural lemon flavour. * Organic
Highlights

Shipping & Returns