Four Sigmatic 10 Mushroom Blend Tin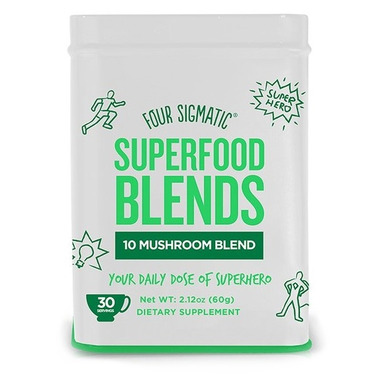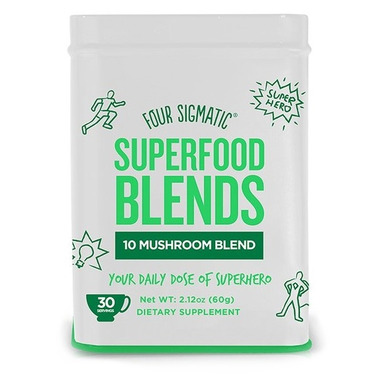 Four Sigmatic 10 Mushroom Blend Tin
Four Sigmatic 10 Mushroom Blend contains 10 species of different functional mushrooms that are all widely researched. Only high-quality and precious dual extracts. Vegan, gluten-free, GMO-free, and no additives or preservatives. Each bag has 30 large dosages.
Features:
A wide scale of different mushrooms help support immune function
Combination of many adaptogenic mushroom species may help with occasional stress
Four Sigmatic uses renowned mushroom fruiting body extracts in this blend
They perform both hot water and alcohol extraction on the mushrooms, and standardize the final product to have at least 30 percent polysaccharides (more than 15 percent beta-glucans) and 2 percent triterpenes (for chaga and reishi)
Pure spray-dried extract powders don't contain any sugars, fillers, or carriers
Each dose contains 24 mg of natural Vitamin C from the rose hip extract (40% RDI)
Suggested Use: Add 2 g (1 teaspoon) to your favorite hot drink, juice, smoothie, sports drink, chocolate, dessert, or basically any recipe. As the mushrooms are already extracted, the product works the same way in hot or cold drink/food. You can use the 10 Mushroom Blend any time of the day.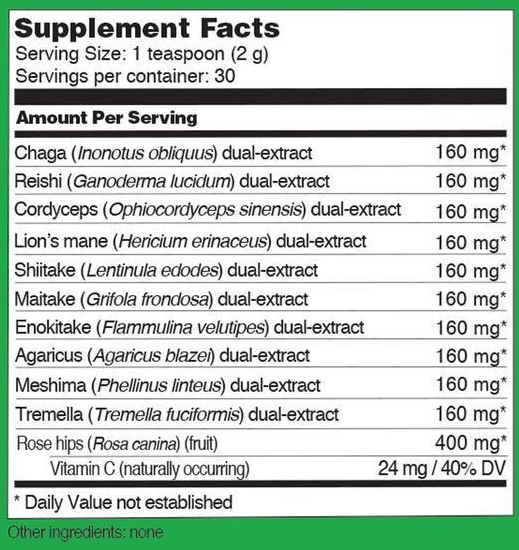 Caution:
Please consult your health care provider for pregnancy and breast feeding. Mushroom drinks are not recommended for children under 6-7 years of age.

Natural, Organic, Vegan, Sugar Free, Non-GMO, Dairy Free, Peanut Free Facility, Peanut Free Product. WARNING: Consuming this product can expose you to chemicals including Acrylamide, which is known to the State of California to cause cancer and birth defects or other reproductive harm. For more information go to www.P65Warnings.ca.gov/food.