Four Sigmatic Golden Latte with Shiitiake and Tumeric
For Unlocking Inner Beauty
10 Sachets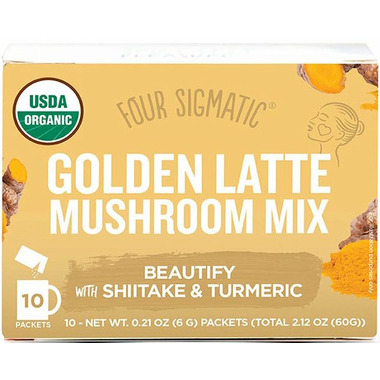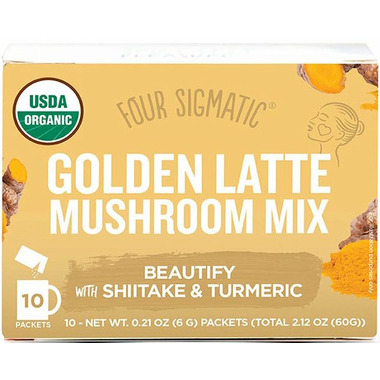 Four Sigmatic Golden Latte with Shiitiake and Tumeric
For Unlocking Inner Beauty
10 Sachets
Support beauty where it counts – from within. Four Sigmatic's lightly sweet and dairy-free Golden Latte with Shiitake and Turmeric is like your own personal airbrush tool, but better, helping you put your best face forward with beautifying shiitake and glow-from-within turmeric. Additional ingredients include adaptogenic tulsi, warming ginger, and a pinch of black pepper to support turmeric's skin-loving properties.

BEAUTIFY WITH SHIITAKE AND TURMERIC
One of the most underrated mushrooms for skin, shiitake has been used for centuries to support full body wellbeing. With the potential to support beauty from the inside out, shiitake is the mushroom Four Sigmatic's team turns to when we need to get our "glow" on. Paired with turmeric's potential antioxidant properties, this delicious mix supports the skin where it matters. Cozy up with a cup, and you might just find yourself skipping the makeup aisle all together!

BEAUTY FROM WITHIN
Ready to drink with hot water
Blend in coconut oil or ghee for an even creamier texture
Try iced for a cooling summer drink
Add to your favourite smoothie
Caffeine-free, vegan and certified paleo, anyone can enjoy anytime
Keep calm with tulsi
Sip regularly to promote beauty from within
Ingredients:
Organic coconut milk powder, organic tumeric powder, organic coconut palm sugar, organic shiitake mushroom extract, organic ginger powder, organic tulsi powder, organic black pepper powder, organic stevia.