Genuine Health
Genuine Health Fermented Organic Gut Superfoods+ Unflavoured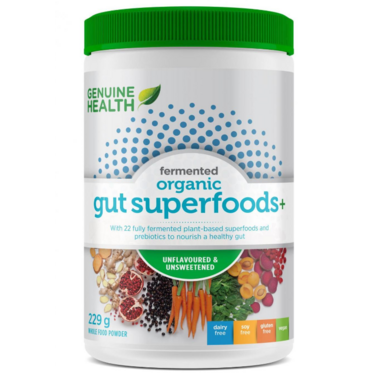 Genuine Health
Genuine Health Fermented Organic Gut Superfoods+ Unflavoured
Description
Genuine Health Fermented Organic Gut Superfoods+ is a collection of 22 fully-fermented plant-based superfoods and prebiotics that nourish a healthy gut ecology. It's food for your gut!
Benefits of Prebiotics:

Encourage growth and activity of gut bacteria, enhance production of beneficial short chain fatty acids, which help to acidify the colon and prevent the growth of "bad" bacteria.

Improve gut function.

Enhance mineral absorption.


Can help to regulate digestion and relieve constipation.



Vegan, Non-GMO, Dairy-Free, Gluten-Free, Soy-Free, Organic
Caution: If you are pregnant or breastfeeding, consult a health care practitioner prior to use.

Highlights

Features
>
Certified Organic

A rich source of prebiotic fiber.
Fermented to provide a grade source of amplified and concentrated plant nutrients for gut and overall health.
Non-GMO certified.
100% vegan, gluten-free, soy-free and dairy-free.
Ingredients
Organic Spirulina whole, Organic Cabbage aerial parts, Organic Cauliflower aeriel parts, Organic Black current fruit, Organic raspberry fruit, Organic spinach leaf, Organic white mulberry fruit, Organic broccoli aerial parts, Organic carrot root, Organic beet root, Organic grape fruit, Organic Kale Leaf, Organic sea buckthorn fruit, Organic pomegranate fruit, Organic sweet potato root, Organic Apricot fruit, Organic bitter melon fruit, Organic ginger root, Organic Cassia trunk bark, Organic Clove flower bud, Organic fermented Cocoa bean, Organic red beet, Xanthan gum.
Shipping & Returns