Genuine Health Healthy Skin Chocolate Soft Chews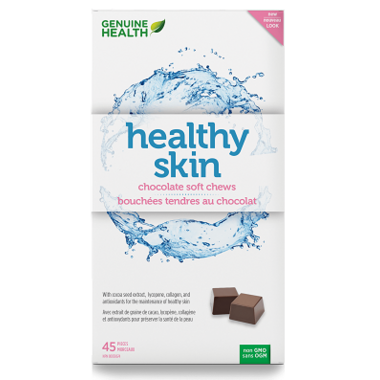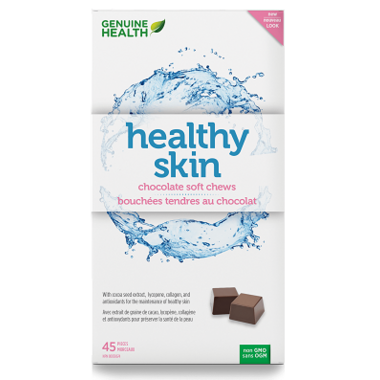 Genuine Health Healthy Skin Chocolate Soft Chews
Genuine Health Healthy Skin Chocolate Soft Chews can help you achieve healthier, radiant skin! Containing our most powerful, proven healthy skin ingredients, including polyphenol-rich Cocoa seed extract, hydrolyzed collagen, Vitamins B2, C and E, Lycopene, Zinc and Selenium, just 3 chews daily improves skin's moisture and texture, with reduced signs of aging. Completely natural, with no artificial fillers or sugar, they're the healthiest, most delicious indulgence your body and skin could ask for!
Benefits of taking healthy skin chocolate soft chews include:
Increased skin hydration and moisture
Improved skin elasticity and thickness
Decreased dry, flaky and rough skin
Improved blood flow to the skin, with decreased UV-ray irritations
Visibly more radiant, healthier skin
What's more, healthy skin chocolate soft chews contain only 90 calories; and do not contain any artificial flavours, colours, or sweeteners. They're also free of common allergens including eggs, soy, wheat and yeast.
See and feel the difference in 21 days! Just 3 chews daily is all that it takes.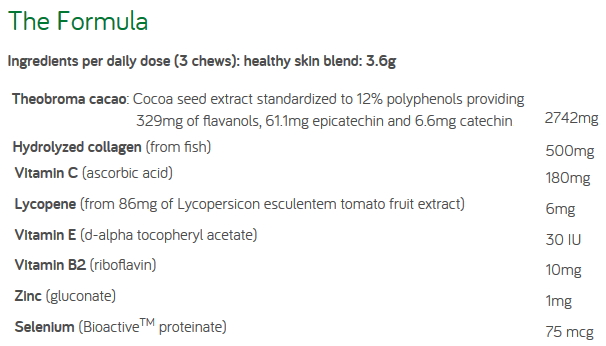 Non-medicinal ingredients:
Gelatin, glycerin, beeswax, lecithin (soybean), purified water, aqueous coating solution.
Suggested Dosage:
Take three (3) chews daily.

Note:
healthy skin chocolate soft chews contain no artificial colours, flavours, sweeteners, corn, dairy, egg, wheat or soy.