Genuine Health Vegan Greens+ O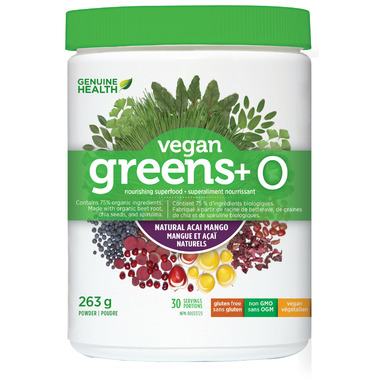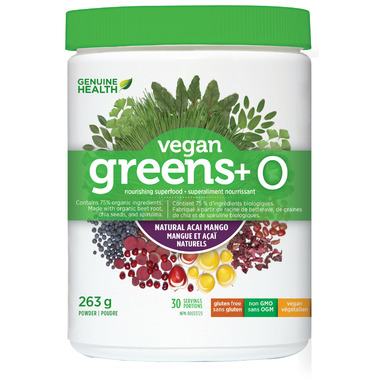 Genuine Health Vegan Greens+ O
Introducing NEW greens+ O! Genuine Health has kept the foundation of the award winning, research-proven greens+ formula, but taken out the allergens and replaced them with equally effective, innovative ingredients! greens+ O includes the unique herbal blend from the original greens+ to ensure that you will continue to feel the difference… and experience the BEST tasting greens+ YET!
Benefits:
Superfoods
Digestive Health
Energy & Vitality
pH Acid/Alkaline
Did you know the fermentation process removes anti-nutrients in plant-based foods? Learn more about fermentation advantages on our blog, The Well.
NEW greens+ O is for those who are both passionate and sensitive about the foods they eat. The O is for organic -– with the inclusion of organic ingredients! greens+ O is also:
Vegan (no animal products)
Wheat free
Gluten free
Soy free
Dairy free
... and like all greens+ products , greens+ O is made with non-GMO ingredients.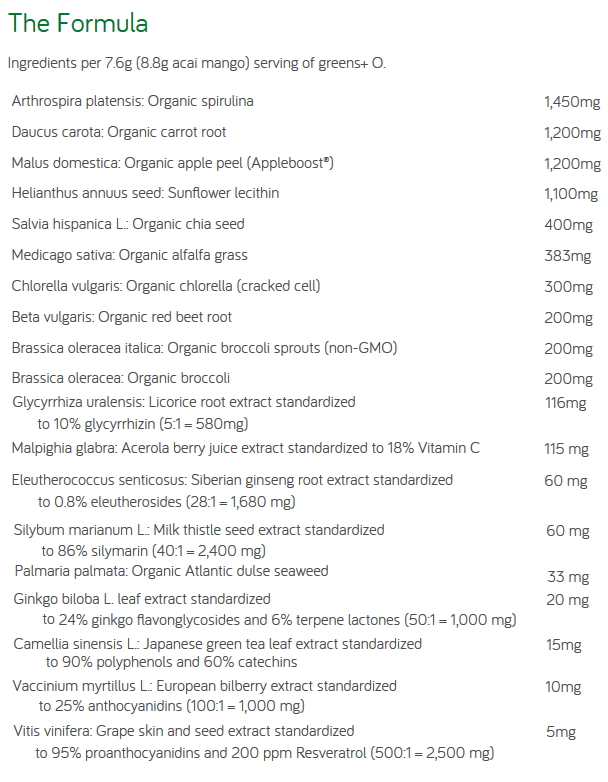 Non-medicinal ingredients:
Natural organic flavour blend, organic evaporated coconut palm nectar, natural acai flavour, stevia rebaudiana: organic stevia leaf, citric acid, malic acid.
Recommended Dosage:
mix 3 teaspoons (8.8g) in 1 cup (250mL) of water or juice. Shake well. If you are a new user of greens+, begin with 1 teaspoon daily and gradually increase to 3 teaspoons daily over a 3 week period. Do not take on an empty stomach.
Caution:
Consult a health care practitioner for use beyond 3 months. Consult a health care practitioner prior to use if you're pregnant, breastfeeding, have any time of acute infection, iron deficiency, liver disorder or develop symptoms of liver trouble (such as abdominal pain, dark urine or jaundice) or are taking medications for diabetes, high blood pressure or seizures. Do not use if you are taking health products that affect coagulations (e.g. blood thinners, clotting factor replacements, acetylsalicylic acid, ibuprofen, vitamin E). Hypersensitivity, such as an allergy, has been known to occur; in which case discontinue use.