Gerber 5 Grains Cherries & Berries Toddler Cereal (Add Water)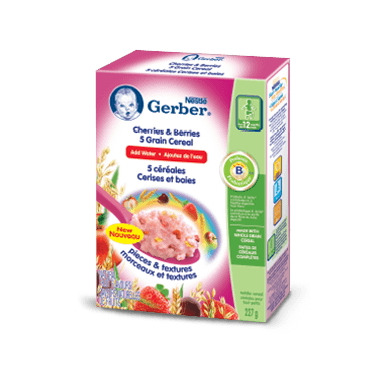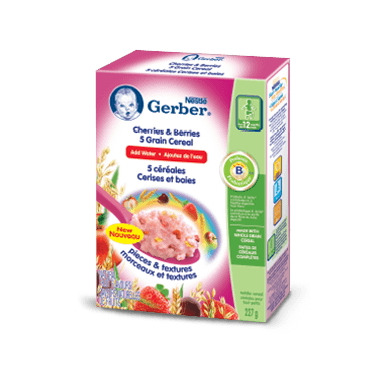 Gerber 5 Grains Cherries & Berries Toddler Cereal (Add Water)
Gerber 5 Grains Cherries & Berries Toddler Cereal is the first and only baby cereal with probiotics
Nestle Gerber 5 Grain Cherries & Berries Toddler Cereal is a cereal just for toddlers, with 15 essential vitamins and minerals, including 100% of your toddler's daily iron requirement. What makes it extra special are the exciting textures and fruity pieces, just right for your 1 year old's chewing abilities.
It's a fun and nutritious new cereal that makes both toddlers and moms smile! Unique tastes and textures appeal to maturing taste buds. Contains essential vitamins and minerals including 100% of daily iron requirement. Probiotic B. lactis* contributes to healthy digestive tract flora.

INGREDIENTS:
DRY SKIM MILK, WHEAT FLOUR, WHOLE GRAIN OAT FLOUR, SUGAR, DRIED APPLE PIECES, CORN FLAKES, PALM OLEIN, RICE FLOUR, BARLEY FLOUR, CORN FLOUR, CANOLA OIL, COCONUT OIL, CORN STARCH, CORN MALTODEXTRIN, SUNFLOWER OIL, CHERRY JUICE, SODIUM PHOSPHATE, MAGNESIUM CARBONATE, ORANGE, DRIED BEETROOT JUICE, STRAWBERRY, DRIED RASPBERRY, MINERALS AND VITAMINS (FERROUS FUMARATE (IRON), ZINC SULPHATE, NICOTINAMIDE, PYRIDOXINE HYDROCHLORIDE, THIAMINE MONONITRATE, CALCIUM PANTOTHENATE (PANTOTHENIC ACID), FOLIC ACID), BIFIDOBACTERIUM LACTIS, SIMULATED VANILLA FLAVOR, SUNFLOWER LECITHIN.