Giddy Yoyo Organic Raw Maca 76% Dark Chocolate Bar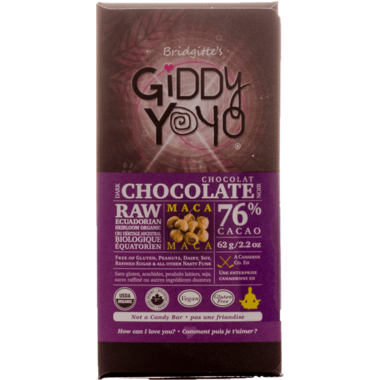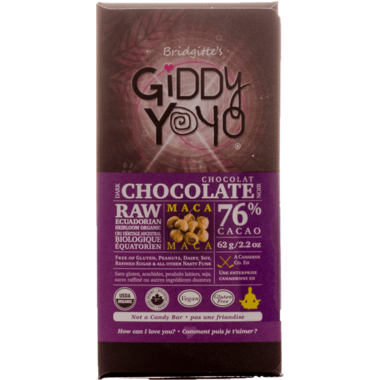 Giddy Yoyo Organic Raw Maca 76% Dark Chocolate Bar
Giddy Yoyo Organic Raw Maca 76% Dark Chocolate Bar is like the Original Bar kicked up a notch, with just enough Giddy Maca to make it taste and feel like... oh ya! Even people that don't like maca love this bar.
Giddy Yoyo Maca is a natural aphrodisiac, energy enhancer, libido booster, hormone balancer (and so much more) for men and women. Maca and chocolate is like peanut butter and jelly, bread and butter... it just feels "right". It's so good you just gotta try it.
Features:
Certified organic


Non-GMO

Vegan

Gluten free

Peanut free

Dairy free

Soy free

Fair trade

100% CRU


Ingredients:
Love & Gratitude, *Raw Arriba Nacional Cacao Paste, *Raw Unrefined Cane Juice Crystals, *Raw Arriba Nacional Cacao Butter, *Maca.
*Certified Organic by ECOCERT CANADA.