Giddy Yoyo Raw Organic Chocolate Bar Salt & Vanilla
82% Dark Chocolate
61-64g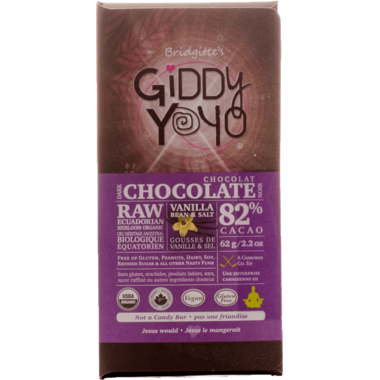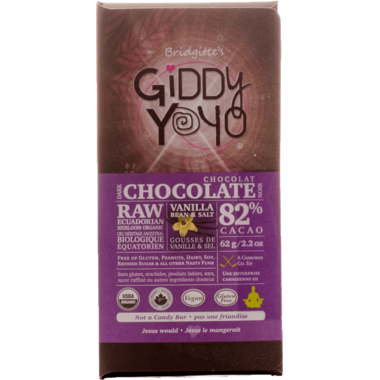 Giddy Yoyo Raw Organic Chocolate Bar Salt & Vanilla
82% Dark Chocolate
61-64g




If you've got a thing for salty sweet, this Giddy Yoyo Organic Raw Salt & Vanilla 82% Dark Chocolate Bar's got it all. And the vanilla..next level awesome.
Salt has the ability to pull more flavour out of this chocolate creating a fuller richer taste. Giddy Yoyo's combination of mineral rich Giddy Yoyo Mountain Salt, sensual Giddy Yoyo Ground Vanilla Beans and their raw heirloom Ecuadorian cacao is really quite spectacular. And to boot it's 82% dark, so you know you're doing your body good.
Features:
Certified organic


Non-GMO

Vegan

Gluten free

Peanut free

Dairy free

Soy free

Fair trade

100% CRU


Ketogenic friendly food
Ingredients:
*Raw Arriba Nacional Cacao Paste, *Raw Unrefined Cane Juice Crystals, *Raw Arriba Nacional Cacao Butter, Vanilla Beans, Mt Salt.