Glutino Gluten Free Breakfast Bars Strawberry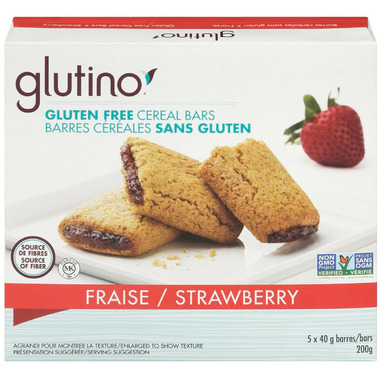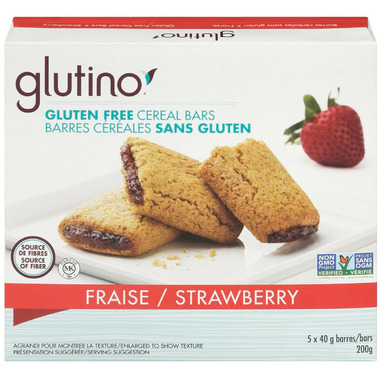 Glutino Gluten Free Breakfast Bars Strawberry
Strawberry just can't keep a straight face. And why on earth should she when the merest whiff will cheer you up and one bite will melt your heart? What's not to love?
Jam-packed with a dreamy fruity filling, Gluten Free Oven Baked Bars are filled with the delightful taste you know and love. Oat-topped then baked to a golden bliss, these bars will take you back to warm summer afternoons.
Features:
Gluten free
Good source of fibre
Naturally flavoured
Non GMO
Ingredients:
Strawberry Filling (Sugar, Apple Powder [Calcium Stearate], White Grape Juice Concentrate, Glycerin, Strawberries, Water, Corn Starch, Canola Oil, Citric Acid, Sodium Alginate, Malic Acid, Dicalcium Phosphate, Dried Citrus Pulp, Sodium Citrate, Carrot And Black Currant Juice, Sodium Hexametaphosphate, Natural Flavor), Chick Pea Flour, Potato Starch, Fructose, Pear Juice Concentrate, Raisin Paste, Inulin, Canola Oil, Tapioca Starch, White Rice Flour, Water, Sodium Bicarbonate.