Govinda Chufli Yoga Ayurvedic Cardamon Hot Tigernut Cereal
Govinda Chufli Yoga Ayurvedic Cardamon Hot Tigernut Cereal
is rated out of
5
by
1
.

"Chufli" is a delicious muesli made with chufa (the Spanish word for 'tigernuts'). Start your day right with this hearty, deliciously satisfying hot cereal. Chufli is a nutritional hot breakfast cereal made from tigernuts – a high fibre, naturally sweet tuber. Eating high fibre breakfasts allows for a slower release of carbohydrates, meaning you stay full for longer.
Chufli has the soft texture of ground tigernuts and other hearty, gluten-free grains. Govinda Chufli Yoga Ayurvedic Cardamom Breakfast Cereal is made with Banana, Dates and Seeds.
Features:
Tigernuts are tubers, NOT actual nuts!
High in Fibre
Organic
Gluten Free
Alkakline food- Balances the body's PH
Rich in easily absorbable minerals
Source of Energy and Iron
No Added Sugar
Delicious Hot or Cold
Fast!
How do I make it?
All Chufli needs added to it is water or your preferred milk/milk alternative. Like any hot cereal, you may also add any fruit and nuts you desire.
Chulfi can also be eaten cold. Get creative and start your day right with this creamy, highly nutritious breakfast cereal!
Ingredients:
Organic Ground Tigernuts (cyperus esculentus)**, Organic Coconut Flour, Organic Dates, Organic Buckwheat Flakes, Organic Banana Flakes**, Organic Sprouted Sunflower Seeds, Organic Pumpkin Seeds, Organic Cardamom*.
* Ayurveda highly recommends cardamom for digestion. Cardamom helps break down heavy foods like grains, preventing heaviness and bloating.
** Bananas and Tigernuts are naturally sweet, thus no added sugar is necessary.
May have come in contact with nuts.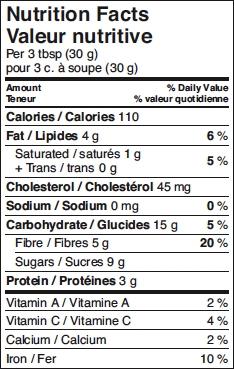 Similar Oatmeal & Hot Cereal
Rated

1

out of

5
by
Sophie from Montreal
from
Horrible taste!
I use tigernut flour in my gluten free cakes to give a fluffier gluten-like features to otherwise too dry cake mix. So I'm all for tigernuts! Hurray!! BUT this stuff is so horrible I threw the package away while still gagging over my spoonful. is it the cardamom? I don't know. One thing for sure I will never reorder that!! So sorry ...
Date published: 2020-02-25